The Ganley-Leal Lab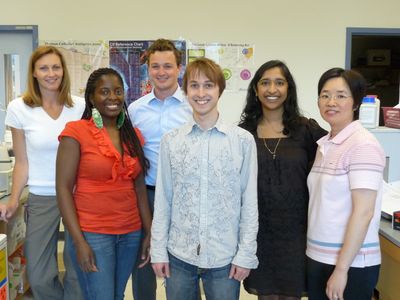 Assistant Professor
Education:
Ph.D. – University of Connecticut Health Center ASM/NCID
Postdoctoral Fellow – Centers for Disease Control and Prevention
Postdoctoral Fellow – BUMC
General field of research:
Immuno-parasitology and chronic inflammation
Affiliations other than medicine:
Evans Center for Interdisciplinary Biomedical Research
Section of Infectious Diseases
Contact information:
Office
650 Albany Street, Room 636
Phone: (617) 414-7234
Lab
650 Albany Street, Room 630
Phone: (617) 414-5217
Fax: (617) 414-5280
Other research websites:
Research group information
YanMei Liang, Laboratory Manager, Research Associate
Qyana Griffith, M.D./Ph.D. student
Jeremy Hetzel, Clinical Coordinator
Ansu Mammen Norohna, Gastroenterology Fellow
Francis Farraye, M.D. Collaborator
Marie McDonnell, M.D. Collaborator
Keywords:
Schistosomiasis; Global Health; B cells; Chronic Inflammatory Disease; Inflammatory Bowel Disease
Summary of research interest:
Human schistosomiasis, caused by parasitic trematodes, currently affects over 207 million people. A poor understanding of the mechanisms involved in protective immunity has hindered vaccine development. High serum concentrations of parasite-specific IgE are correlated with resistance to schistosomiasis, however, the function(s) of IgE remain elusive. Although B cells are the producers of IgE, remarkably little is known about human B cell function in schistosomiasis. We recently reported that CD23 expression, the low affinity IgE receptor, on B cells is correlated with the development of resistance to schistosome infection in male, occupationally-exposed adult Kenyans. Cross-linking of CD23-bound IgE by antigen induces cellular activation and increased IgE production. However, the role of CD23 in human immunity is exceedingly complex and is virtually unstudied in human schistosomiasis. Our lab focuses on understanding the role of CD23-bound IgE in generating protective immunity as well as the host-parasite interactions between CD23 and schistosomes.
Our second focus is to understand how Toll-like receptors mediate or regulate inherent inflammatory responses by B cells in chronic inflammatory diseases, including inflammatory bowel disease, type 2 diabetes, and schistosomiasis. This work involves collaboration with several clinicians on campus including Dr. Frank Farraye in Gastroenterology and Dr. Marie McDonnell in Endocrinology.
Recent publications:
Mwinzi, P., Ganley-Leal, L.M., Black, C., Secor, W.E., Karanja, D., and Colley, D. 2009. Circulating CD23+ B cell subset correlates with development of resistant to Schistosoma mansoni reinfection in occupationally exposed adults who have undergone multiple treatments. Journal of Infectious Diseases, 199. [PMCID: PMC2636678]
Shin, H, Zhang, Y, Jagannathan, M, Hasturk, H, Kantarci, A, Liu, H, Van Dyke, TE, Ganley-Leal, LM, and Nikolajczyk, BS. 2009. B cells from periodontal disease patients express surface Toll-like Receptor 4 Journal of Leukocyte Biology, 85(4):648-655. [PMID: 19118102].
Liang, Y, Ganley-Leal, L. 2009. Technical Note: A simple method for measuring human cell-bound IgE levels in whole blood. Journal of Immunological Methods, 343(2):134-139.
Ansu Mammen Noronha, YanMei Liang, Jeremy Hetzel, Hatice Hasturk, Alpdogan Kantarci, Arthur Stucchi, Yue Zhang, Barbara S. Nikolajczyk, Francis A. Farraye, and Lisa M. Ganley-Leal. Hyper-activated B cells in human inflammatory bowel disease (In press: Journal of Leukocyte Biology)
Technologies available for sharing upon request:
Flow Cytometry; Phospho-flow; Parasitology; Immuno-epidemiology