Boston VA Medical Center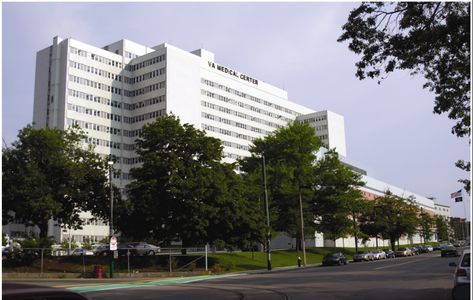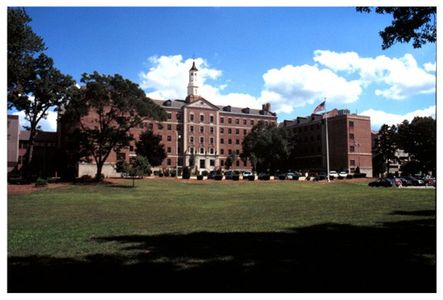 View the 2009 VA Annual Report
The VA Boston Health care System (VABHS) is the major tertiary care center for the New England Region. It hosts a number of clinical centers of excellence, advanced technology and research initiatives while providing primary care to patients from eastern Massachusetts, Cape Cod, and southern New Hampshire. The product of a 1999-2000 merger between two separate VA Hospitals, the current VABHS is dispersed among three main campuses, and runs five additional community based outpatient clinics. The West Roxbury campus hosts acute inpatient services for medical, surgical, spinal cord injury and rehabilitation care. Located at the Jamaica Plain campus are a cancer center, endoscopy unit, ambulatory surgical center, dialysis unit, and many subspecialty clinics in medicine and surgery. The Brockton campus is the site of acute inpatient psychiatry, transitional and chronic care, and a hospice unit. VABHS is a major affiliate of Boston University Chobanian & Avedisian School of Medicine and Harvard Medical School as well as scores of other academic and health care education institutions. It is a major training center for students, residents, and subspecialty fellows and is a vibrant center of medical investigation.
Clinical Care
The Medical Service leads major clinical programs to support care of patients across this broad  geographic region. A few examples of state of the art Medical Service clinical programs include: a cancer center, diagnostic and interventional cardiovascular laboratory, cardiac electrophysiology laboratory, clinical heart failure program, high tech endoscopy unit, and sleep medicine and  allergy programs. Our gastroenterology physicians were the first in the city of Boston to use endoscopic ultrasound and photodynamic therapy in diagnosis and treatment of esophageal malignancies. VABHS is home to Women's Health Centers of Excellence. This program provides comprehensive clinical care to women veterans, and hosts a women's health fellowship program in collaboration with BU's Women's Health Center of Excellence.
In conjunction with a nationwide network and a comprehensive electronic medical record, VABHS has the ability to apply human and technological resources to the care of veterans throughout the New England region. A robust home-based primary care provides care for homebound elderly, and a home telehealth program provides computer technology in a patient's home to assist in managing chronic diseases. VABHS is a leader in the use of telehealth technologies such as electronic consultations (e-consults) and store-and-forward telehealth (e.g. teleretinal imaging for diabetic retinopathy screening and teledermatology), which make maximal use of specialty expertise and brings timely and efficient care of our patients.
VA Boston has received the highest rating for clinical care every quarter for the past 3 consecutive years, 1 of only 5 facilities to do so nationally.  VA Boston is truly a place of excellent care.
Research
Medical Service investigators are consistently successful in obtaining Department of Veterans Affairs (VA) and National Institutes of Health (NIH) funding. Laboratory, epidemiologic, health services and clinical research are all active in the Medical Service. Every clinical section in Medicine has ongoing research efforts.  In the last fiscal year, VA Boston was rank #1 in the country for the most intramural VA Research funding.
MAVERIC, the Massachusetts Veterans Epidemiology Research and Information Center, is the largest hub of research activities within the Medical Service with more than 200 staff. http://maveric.org  MAVERIC is involved in a variety epidemiological studies and clinical trials, and has a thriving informatics unit supporting novel methods of investigation. The unit has more than 20 individually funded projects. It also houses a serum and tissue repository to support VA investigators across the country. MVP – Million Veterans Program is a major initiative in genetic epidemiology. MVP is collecting serum and DNA samples from 1,000,000 veterans across the country and can link to clinical data within the VA's nationwide electronic medical record. The unit lays claim to expertise in multi-site clinical trials and is one of a select few Clinical Trials Coordinating Centers nationally in the VA Cooperative Studies Program. Their newly launched Precision Oncology Trial is a demonstration project being conducted throughout the VA New England network whereby patient specific recommendations for treatment will be made at the point of care and based upon phenotypic, genotypic and clinical outcomes of recently treated patients. Over half of the Sections in Medical Service have staff leading or collaborating on research projects in collaboration with MAVERIC. Cross disciplinary research, particularly with colleagues in mental health is vibrant.
There are many unique centers of excellence in investigation and individual experts which call VABHCS home. The Center for Healthcare Organization and Implementation Research (CHOIR) is funded as a VA Center of Innovation (COIN) >www.choir.research.va.gov< This center has programs studying recovery in behaviorally vulnerable populations, medication optimization, long term care, health services genomics and program implementation and organization evaluation. National Center for Post-Traumatic Stress Disorder (PTSD) researchers co-direct the Consortium to Alleviate PTSD, a national 5 year project to identify early interventions after post trauma exposure to prevent or mitigate adverse sequelae.  Our Geriatrics Research and Education Center (GREC) is involved in exciting projects in neuro degenerative disorders including Alzheimer's disease, traumatic encephalopathy and traumatic brain injury.  There are just examples of locale expertise that welcome collaboration.
Education
Students from two medical schools and three Internal Medicine residency programs in Boston come together on the Medical Service of VABHS to create a stimulating academic environment. Boston Medical Center, Brigham and Women's Hospital, and Beth Israel Deaconess Medical Center send residents to train in our inpatient service and ambulatory clinics. Boston University Chobanian & Avedisian School of Medicine trainees have the largest representation, with more than 50% of VA training slots for medical students, residents, and subspecialty fellows filled by BUSM affiliated programs. Residents and students from BUSM and Harvard Medical School (HMS) affiliated programs often work together in an integrative manner when assigned to VABHS. The service also hosts on-site physical diagnosis courses for second year students from both BUSM and HMS.
The VABHS has long been a site for educational innovation, experimentation and a home for faculty committed to educational excellence. VA-based faculty have leadership responsibilities in educational programs for students, residents and fellows. Hence VABHS is an active partner in planning and running these vital educational experiences. Cross fertilization of staff from VA to the affiliates and visa versa ensures the highest quality clinical teaching for all trainees. Ubiquitous access to electronic library resources compliments the robust human resources, to ensure rapid access to up to date information that meet the learning needs of trainees. Novel conferences and unique clinical rotations, such as the highly recognized Patient Safety Rotation and the Ambulatory Diagnostic and Treatment Center, take full advantage of the educational opportunities afforded by caring for a patient population that is varied and complex in its burden of illness, and doing so in an academically vibrant faculty.
Quality Improvement: Staying strong and getting better.
A dedicated Chief Resident in Quality and Safety, a block rotation for senior residents and a medical student on ambulatory medical rotation, supervised by 3 dedicated medical faculty highlight the emphasis and commitment the Medical service at VA Boston places on Quality and Safety education. Based at VA Boston, The New England Veterans Engineering Resource Center (VERC) >www.newengland.va.gov/verc/< brings the experience of systems engineering to work collaboratively within throughout the institution to further improve hospital systems. NE VERC is one of four such centers in the country.  Faculty from VERC collaborate in both educational as well as project work with our trainees and staff.