Thiago Oliveira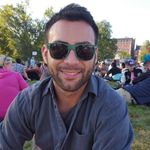 Title

Resident — Class of 2020

Email
Hometown: New York City
Medical School: Boston University School of Medicine
Previous Lives: Financial consultant, Bartender, School Administrator, Kindergarten and 5th Grade Teacher, Mental Health Worker
Interests/Hobbies: Cooking, climbing, dancing, hiking, and travel whenever possible!
5-year Plan: Be a physician my friends and family would want to be taken care of by. Share great experiences with my friends and family. Repeat.
If he wasn't a doctor he would be: Chef
Favorite Sports Teams: Celtics, Bruins… Red Sox (unless they're playing the Yankees – always a New Yorker)
Favorite Place to Visit: Anywhere I haven't been yet. Big blue oceans, tall mountains, or deep jungles are all plusses.
Favorite Movies: Wedding Crashers. Skyfall. The Lion King.