Zeiss LSM 710 NLO Microscope System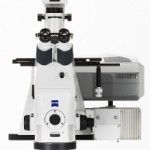 The Zeiss LSM 710 NLO microscope system equipped with 6 visible laser lines (458nm, 488nm, 514nm, 561nm, 594nm, 633nm), a 405nm solid state laser as well as a tunable femtosecond IR pulse laser for multiphoton excitation (Coherent Chameleon Vision–S).
In addition to two descanned internal detectors and a spectral detector which enables lambda scanning and linear unmixing of fluorescent probes, the system has two highly sensitive gallium arsenide non-descanned detectors for collection of emitted light from two-photon experiments. The laser scanning system is coupled to an upright microscope with a motorized stage and is complete with a variety of objective lenses (10X, 20X, 40X, 63X).
Applications of the system include:
Optical sectioning of fluorescent tissue using confocal or multiphoton imaging
Time-lapse imaging of living tissue or cell culture
Tile scanning and stitching of composite images
3D reconstruction of biological tissue/cells
In vivo time-lapse imaging
FRAP, FRET, Bleaching
BU Users Rates
External Rates
$38/hour unassisted
$75/hour assisted
$75/hour training
$75/hour unassisted
$129/hour assisted
$129/hour training
How to Schedule
Please login to iLab system to schedule equipment time or services. For new users please follow the steps outlined in Information for New Users.
Contact
Vickery Trinkaus-Randall, PhD
Core Director
(617) 358-1235 |vickery@bu.edu
Location 
BUSM Housman Medical Research Center
72 E. Concord Street, R Building R-815
Boston, MA 02118
View BUMAPS
◄ Back to Confocal Microscopes website