Nicole Hauptman Siegel, MD
Assistant Professor, Ophthalmology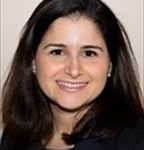 Biography
Nicole Siegel, MD, an Assistant Professor of Ophthalmology at the Chobanian and Avedisian School of Medicine, is the Vice Chair of Education and the Program Director of the Ophthalmology Residency. Formerly, she served as the Associate Program Director and the Director of Medical Student Education in the Department of Ophthalmology for the Chobanian and Avedisian School of Medicine. She is a vitreoretinal surgeon with her academic practice at Chobanian and Avedisian School of Medicine, as part of the Boston University Eye Associates (BUEA). She sees patients at Boston Medical Center and at the BUEA Brockton office. Dr. Siegel's clinical and surgical interests include diabetic retinopathy, age-related macular degeneration, retinal vein occlusions, intraocular inflammation, retinal detachments, macular holes and membranes, dislocated intraocular lenses.
Dr. Siegel completed both her Ophthalmology residency, serving as chief resident, and her two-year vitreoretinal Surgery fellowship at Boston Medical Center. Prior to that, Dr. Siegel graduated from the New York University School of Medicine. During her time in medical school she spent time doing research and was the vice president of the NYU chapter of Unite For Sight.
Dr. Siegel's research interests include evaluating patient satisfaction for sedation used in ophthalmic surgery, intraocular inflammation, the diagnostic yield of aqueous and vitreous biomarkers and on-going multi-disciplinary projects. In addition to invited oral presentations and authoring manuscripts, case reports and book chapters, Dr. Siegel is a member of the American Academy of Ophthalmology, the American Society of Retina Specialists, Women in Retina, The Association for Research in Vision and Ophthalmology, the Massachusetts Medical Society, and the New England Ophthalmological Society.
Education
New York University School of Medicine

, MD

Dartmouth College

, BA