Nahid R. Bhadelia, MD, MA
Associate Professor, Medicine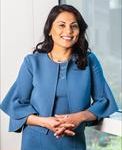 Biography
Dr. Bhadelia is the founding director of BU Center for Emerging Infectious Diseases Policy and Research. She is a board-certified infectious diseases physician and an Associate Professor at the BU School of Medicine. She served the Senior Policy Advisor for Global COVID-19 Response for the White House COVID-19 Response Team in 2022-2023.
Between 2011-2021, Dr. Bhadelia helped develop and then served as the medical director of the Special Pathogens Unit (SPU) at Boston Medical Center, a medical unit designed to care for patients with highly communicable diseases, and a state designated Ebola Treatment Center. She is a faculty member with and was also previously an associate director for BU's maximum containment research program, the National Emerging Infectious Diseases Laboratories. She has provided direct patient care, and been part of outbreak response and medical countermeasures research during multiple Ebola virus disease outbreaks in West and East Africa between 2014-2019. She was the clinical lead and a senior advisor for a DoD-funded viral hemorrhagic fever clinical research unit in Uganda, entitled Joint Mobile Emerging Disease Intervention Clinical Capability (JMEDICC) program between 2017 and 2022. In 2022, she also served as the testing coordinator for the White House MPOX Response Team. Currently, she is a co-director of Fogarty funded, BU-University of Liberia Emerging and Epidemic Viruses Research training program. She is part of the World Health Organization(WHO)'s Technical Advisory Group on Universal Health and Preparedness Review (UHPR) and a member of the steering committee for Massachusetts Consortium for Pathogen Readiness. She is a member of the National Academies Forum on Microbial Threats.
Dr. Bhadelia's research focuses on global health security and pandemic preparedness, including medical countermeasure evaluation and clinical care for emerging infections, diagnostics evaluation and positioning, infection control policy development, and healthcare worker training. She has health system response experience with pathogens such as H1N1, Zika, Lassa fever, Marburg virus disease, and COVID-19 at the state, national, and global levels.
Dr. Bhadelia has served on state, national, and interagency groups focused on biodefense priority setting, development of clinical care guidelines, and medical countermeasures research. She has served as a subject matter expert to the US Centers for Disease Control and Prevention, Department of Defense (DoD), White House Office of Science and Technology Policy (OSTP) and World Bank.
She has publications in Nature, Science, New England Journal of Medicine and other prestigious journals, as well as in press including Washington Post, and The Atlantic and Time magazines. Her work has been featured in documentaries by National Geographic as well as NOVA. She was an NBC/MSNBC Medical contributor 2020-2022.
Aside from her clinical training in infectious diseases, she has a master's degree in international affairs from the Fletcher School of Law and Diplomacy and a background in health and human security with a focus on the impact of pandemics on macro level health indicators and community security. Dr. Bhadelia is also an Adjunct Associate Professor at the Institute of Human Security at the Tufts Fletcher School of Law and Diplomacy, where she teaches a course on human security and emerging infectious diseases.
Other Positions
Faculty

,

National Emerging Infectious Disease Lab

,

Boston University

Member

,

Evans Center for Interdisciplinary Biomedical Research

,

Boston University
Education
Tufts University School of Medicine

, MD

Tufts University

, BS