Maria de Los Angeles Serrano, PhD
Assistant Professor, Medicine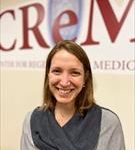 Biography
Dr. Serrano's research program at BU aims to develop pioneering work toward understanding shared cellular and molecular mechanisms of neurodevelopment and vasculogenesis in the context of rare diseases with an epigenetic basis. Examples of these are Kabuki Syndrome, caused by pathogenic variants in the KMT2D gene, and KAT6-related disorders.
Dr. Serrano created the stable null KMT2D zebrafish mutant line and fully characterized multiple novel cardiovascular phenotypes for the first time in zebrafish. In addition, her work led to her discovery that KMT2D directly modulates Notch signaling and that some of the Kabuki Syndrome phenotypes can be alleviated by controlling levels of the Notch pathway.
Her research interest focuses on studying non-canonical epigenetic mechanisms regulating neuronal differentiation and blood vessel patterning. This is specifically during cell differentiation, migration, and cell cycle progression. To reach this goal, Dr. Serrano combines her expertise in rare disease modeling in zebrafish, cardiovascular and neurobiology techniques, and human iPSC-derived nervous system organoids.
One of Dr. Serrano's goals is to bridge the gap between basic research, clinicians, and patients by building a research network that will encourage interdisciplinary collaborations in the field of rare diseases. Her work in the field of rare diseases, commitment to mentoring, and advocacy for diversity, equity, and inclusion are critical elements of Dr. Serrano's professional goals and lab vision.
Education
Universidad Nacional de Tucumán

, PhD

Universidad Nacional de Misiones

, BS