Manish Sagar, MD
Professor, Medicine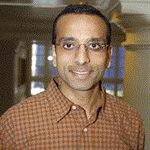 650 Albany St Evans Biomed Research Ctr
Biography
Dr. Manish Sagar is a Professor of Medicine at the Chobanian and Avedisian School of Medicine. My laboratory is primarily interested in human immunodeficiency virus type 1 (HIV-1) mucosal HIV-1 transmission and antibodies. One of our focus is to understand the biological mechanisms for the selection observed during HIV-1 transmission. Even though chronically infected subjects harbor extensive variants during transmission, only a limited number of viruses are acquired by newly infected partners. Genotypic examination of viruses present in the newly infected subject compared to those circulating in the transmitting partner suggests that the observed genetic bottleneck during transmission is not due to random chance. Laboratory studies explore the hypothesis that during transmission there is selection of specific variants with properties that confer fitness for transmission.
Another focus in the lab is to decipher correlate of immune protection. Even though infants are exposed to infected breast milk, only a small proportion (around 30%) acquire HIV-1 from their infected mother in the absence of antiretroviral protection. We hypothesize that maternally acquired antibodies present in the infant prevent HIV-1 acquisition either through neutralization or antibody dependent cellular cytotoxicity against the variants circulating in the maternal breast milk. Defining the immune correlate of protection will have important implications for HIV-1 vaccine design. Our work focuses on understanding HIV-1 envelope and host antibody evolution and impact on disease pathogenesis.
Dr. Sagar has served on numerous committees including NIH study sections and Doris Duke Charitable Foundation Early Career Development Award Review Committee. He is an active member of the Infectious Diseases Society of America (IDSA).
Other Positions
Professor

,

Virology, Immunology & Microbiology

,

Boston University Chobanian & Avedisian School of Medicine

Member

,

Genome Science Institute

,

Boston University

Graduate Faculty (Primary Mentor of Grad Students)

,

Boston University Chobanian & Avedisian School of Medicine, Graduate Medical Sciences
Education
Johns Hopkins University School of Medicine

, MD

Columbia University

, BS