Lindsay A. Farrer, PhD
Boston University Distinguished Professor of Genetics, Medicine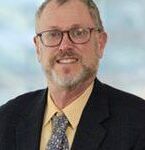 72 E. Concord St Instructional (L)
Biography
Dr. Lindsay Farrer is a medical geneticist at Boston University Schools of Medicine and Public Health where he is the Chobanian and Avedisian School of Medicine Distinguished Professor of Genetics, Chief of Biomedical Genetics, and a Professor of Medicine, Neurology, Ophthalmology, Epidemiology, and Biostatistics. Dr. Farrer is a graduate of the University of North Carolina in Chapel Hill, received his Ph.D. from the Indiana University School of Medicine, and gained additional training in genetic epidemiology at Yale University. He holds adjunct faculty positions at Harvard Medical School, Massachusetts General Hospital, and the Veterans Administration Medical Center in Bedford, Massachusetts. He is a Founding Fellow of the American College of Medical Genetics. Dr. Farrer teaches several courses in human genetics and addiction science at Boston University, directs the BU Transformative Training Program in Addiction Science (TTPAS) that features transdisciplinary training for students enrolled in PhD programs across the Medical and Charles River campuses, directs Boston University's Molecular Genetics Core Facility which offers DNA genotyping and sequencing services to investigators at Boston University and elsewhere, and provides genetic counseling and testing to patients with a variety of inherited conditions.
Dr. Farrer's research has lead to more than 450 publications on genetic risk factors for several familial neurodegenerative and other chronic diseases. In collaboration with other laboratories worldwide, his group has localized genes causing a variety of rare and common disorders, most notably Alzheimer disease (AD), substance use disorders (SUDs), age-related macular degeneration (AMD), Wilson disease, Machado-Joseph disease, Waardenburg syndrome, hypertension, sensorineural deafness, and osteoarthritis. His group identified a functional genetic variant in the complement factor H gene which accounts for more than 30% of the attributable risk for AMD, the leading cause of progressive vision loss and blindness in the elderly. In collaboration with other researchers, Dr. Farrer is conducting genome wide association studies (GWAS) and whole genome/exome sequencing studies for several disorders including AD, SUDs (cocaine, opiates, nicotine, alcohol and cannabis), and AMD. Dr. Farrer's team is also developing methods for locating genes that influence the natural history of complex diseases and pharmacogenetic response.
Under Dr. Farrer's leadership, the MIRAGE Project, a multi-center study of AD funded since 1991 by the National Institute on Aging, has made several important contributions to our understanding of the interactions between genetic and environmental factors for the disorder. This study has a particular emphasis on the genetics of AD in African Americans. MIRAGE was the first study to demonstrate that genetic factors have a major role in the development of AD and that APOE e4 is more weakly associated with disease in men and persons older than 75 years. Dr. Farrer co-directed the international effort which demonstrated that SORL1 is genetically and functionally associated with AD, thus implicating intracellular protein trafficking as integral pathway in AD. His laboratory conducted genome wide association studies (GWAS) for AD in several populations including African Americans and an inbred Israeli-Arab community, and identified rare AD causal mutations in the AKAP9 gene which are specific to African Americans. Dr. Farrer serves on the Executive Committee of the national Alzheimer Disease Genetics Consortium and co-directs the data analysis effort for this large NIH-funded project. He is also a Principal Investigator of the national Alzheimer Disease Sequencing Project and a study to identify AD risk and protective variants in Koreans. in 2020, Dr. Farrer co-founded the Framingham Heart Study Brain Aging Program (FHS-BAP), an NIH-funded infrastructure program that continues surveillance of FHS participants for cognitive decline and dementia, conducts neuropsychological and brain MRI exams, houses the FHS brain tissue repository, and conducts several projects utilizing genetics, various omics, and wealth of phenotype data on FHS participants to develop predictive models, identify biomarkers and discern vascular and inflammatory processes leading to AD.
Other Positions
Section Chief

,

Biomedical Genetics

,

Medicine

,

Boston University Chobanian & Avedisian School of Medicine

Professor

,

Biomedical Genetics

,

Medicine

,

Boston University Chobanian & Avedisian School of Medicine

Professor

,

Ophthalmology

,

Boston University Chobanian & Avedisian School of Medicine

Professor

,

Neurology

,

Boston University Chobanian & Avedisian School of Medicine

Professor

,

Biostatistics

,

Boston University School of Public Health

Professor

,

Epidemiology

,

Boston University School of Public Health

Investigator

,

Framingham Heart Study

Member

,

Evans Center for Interdisciplinary Biomedical Research

,

Boston University

Member

,

Genome Science Institute

,

Boston University

Member

,

Bioinformatics Graduate Program

,

Boston University

Graduate Faculty (Primary Mentor of Grad Students)

,

Boston University Chobanian & Avedisian School of Medicine, Graduate Medical Sciences
Education
Indiana University School of Medicine

, PhD

University of North Carolina at Chapel Hill

, BA