Jessica L. Fetterman, PhD
Assistant Professor, Medicine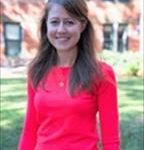 75 E. Newton St Evans Building
Biography
Jessica L. Fetterman, PhD, FAHA is a basic and translational scientist studying the intersections of mitochondrial physiology, mitochondrial genetic epidemiology, and cardiovascular disease. Her work focuses on the contribution of mitochondrial genetic variation and abnormalities to cardiovascular disease in the presence of risk factors, including tobacco product use and diabetes.
Using bioinformatics methods, Dr. Fetterman discovered that several select mitochondrial genetic variants are associated with non-invasive measures of vascular function within the Framingham Heart Study (FHS). Additionally, she has applied similar methodology to select mitochondrial single variant data within Cohorts for Heart and Aging Research in Genomic Epidemiology (CHARGE) to determine the associations of select mitochondrial genetic variants with cardiometabolic measures in collaboration with members of the mitochondrial genetics working group. Recently, Dr. Fetterman was awarded the competitive Trans-Omics Precision Medicine (TOPMed) Analytical Support Award for early career investigators to perform comprehensive bioinformatic annotation of the mitochondrial genetic variants within the TOPMed cohorts.
Dr. Fetterman also conducts research on the impact of new and emerging tobacco products on the vasculature, particularly studies designed to inform tobacco product regulation. Some of her recent work demonstrated that tobacco product flavoring additives induce vascular endothelial dysfunction, an early indicator of cardiovascular injury. She serves as an Associate Director of Education and Training within American Heart Association Tobacco Regulation and Addiction Center. Additionally, she is the Director for the Boston University Tobacco Regulatory Science Affinity Research Collaborative, which is designed to bring together multi-disciplinary teams of scientists within Boston University to increase our understanding of tobacco product use patterns and the impact of new and emerging tobacco products on human health and disease.
Other Positions
Investigator

,

Framingham Heart Study

Member

,

Whitaker Cardiovascular Institute

,

Boston University

Member

,

Evans Center for Interdisciplinary Biomedical Research

,

Boston University
Education
University of Alabama at Birmingham

, PhD

Ohio Wesleyan University

, BA