Hui Feng, MD, PhD
Associate Professor, Pharmacology, Physiology & Biophysics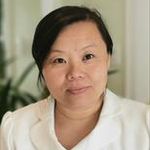 72 E. Concord St Silvio Conte (K)
Biography
Cancer Research: Dr. Feng is Director of the Laboratory of Zebrafish Genetics and Cancer Therapeutics. Dr. Feng's research interests focus on identifying novel genes and pathways that are essential for MYC-related tumor transformation and progression, particularly for T-Lymphoblastic Lymphoma/Leukemia, Neuroblastoma and Breast Cancer. The research strategy of Dr. Feng's research is to combine the analysis of human cancer cells with the genetic and imaging capacities of the zebrafish system.
Current research areas in Dr. Feng's laboratory include:
1) To determine the molecular mechanisms underlying tumor cell intravasation and tumor progression.
2) To identify novel genes and pathways that, when mutated, delay the initiation and progression of MYC-related cancers.
3) To test the identified genes' therapeutic potential in treating MYC-related cancers and to characterize their molecular relevance to MYC.
The long-term goal of Dr. Feng's research is to discover novel molecular therapies to target critical components of MYC-driven oncogenic pathways, thus providing treatment alternatives that are more specific and less toxic.
Other Positions
Member

,

BU-BMC Cancer Center

,

Boston University

Member

,

Genome Science Institute

,

Boston University

Graduate Faculty (Primary Mentor of Grad Students)

,

Boston University Chobanian & Avedisian School of Medicine, Graduate Medical Sciences
Education
Beijing Medical University

, MD

University of Georgia

, PhD

Peking Union Medical College

, MS
Classes Taught
GMS FC 715
GMS IMP 730
GMS MM 703
GMS PM 932