Promote Health Equity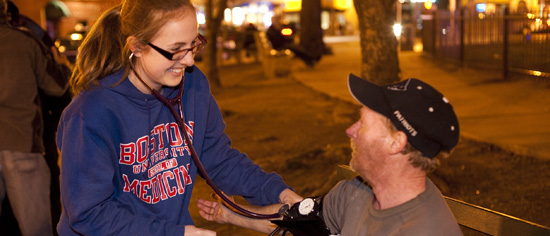 The Boston University Chobanian & Avedisian School of Medicine is committed to promoting health equity—around the corner, and on the other side of the world.
In Boston, where we share a campus with BU's Schools of Public Health and Dental Medicine, as well as our primary teaching hospital, Boston Medical Center, we work closely with the city's minority and disadvantaged populations. Both our students and clinicians work in 33 affiliated hospitals, 14 neighborhood health centers, and many private clinics and practices.
Part of health equity is taking the care where it is most needed, so our students are required to perform rounds in the community. Our Outreach Van Project (OVP), founded by students in 1997, connects underserved communities with primary care, other services, and basic necessities. Essential, too, is meeting the needs of historically underserved groups, so we founded the Black Women's Health Study in 1995 and have made a focused effort at the BU­–BMC Cancer Center to recruit members of racial minorities for clinical trials.
Our research also promotes health equity. We collaborate with investigators at the other Medical Campus schools (Public Health and Dental Medicine), Boston Medical Center, and the Charles River Campus of Boston University. These collaborative projects often focus on urban health problems, health disparities, and healthcare delivery to vulnerable populations and underserved communities—both here and around the world.
What you can do