Julie Palmer, ScD, Receives Breast Cancer Research Foundation Grant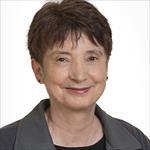 Julie Palmer, ScD, co-director of the Boston University-Boston Medical Center (BU-BMC) Cancer Center, has been awarded a one-year, $589,000 Research Grant from the Breast Cancer Research Foundation (BCRF) for her research, "Breast Cancer Drivers in Black Women: Society to Cells."
The goal of the project is to reduce breast cancer disparities and improve outcomes among Black women by advancing personalized, evidence-based care. Ultimately, over a five-year period, a comprehensive study of the interaction of comorbidities, social determinants of health (SDoH) and breast cancer genetics in Black women will be conducted.
"This grant will support the initial involvement of the Black Women's Health Study (BWHS) in the BCRF-Estee Lauder Companies Disparities Project and set the stage for future work," explains Palmer, who also is a founding leader of the BWHS, a prospective cohort study of 59,000 Black women who enrolled in 1995 and have been followed by biennial questionnaire since that time.
While the BWHS has a wealth of data on SDOH, comorbidities and lifestyle factors among Black women who have been diagnosed with breast cancer as well as on more than 45,000 Black women without cancer, funding from this grant will add missing data elements to create uniformity across the BWHS and other similar large studies. "A comprehensive and contemporary profile of SDOH and a strategic plan for collecting and standardizing data/SDOH elements will be formulated," said Palmer, the Karin Grunebaum Professor in Cancer Research at Boston University Chobanian & Avedisian School of Medicine and director of BU's Slone Epidemiology Center.
Among the proposed improvements/additions:
Link with national databases that provide neighborhood-level information on environmental exposures, poverty and racial discrimination and health system-level data on provider characteristics and facilities.
Supplemental questionnaires will be sent to BWHS participants who are breast cancer survivors to obtain additional data on treatments, insurance status, comorbidities, psychosocial stressors and outcomes.
Use of a novel method of obtaining dried blood spots as a source of identifying circulating RNA for BWHS breast cancer survivors and, as funds permit, for women who are cancer-free but at a higher baseline risk due to a family history of breast cancer.
Palmer is a cancer epidemiologist with research projects spanning early detection, etiology, and survivorship. Her primary focus is on elucidating reasons for the disproportionately high incidence of hormone receptor negative breast cancer in African American women and on understanding and reducing racial disparities in breast cancer mortality.
Palmer's BWHS breast cancer research includes work on risk prediction models for breast cancer in African American women, identifying differences in childbearing patterns as a contributing cause to the excess incidence of estrogen receptor negative breast cancer in African American women and investigating the interrelationships of type 2 diabetes, obesity and inflammation on breast cancer risk. She has served on many National Institutes of Health (NIH) and external advisory committees, including as chair of the NIH Cancer, Cardiovascular, and Sleep Epidemiology Study Section, and as co-chair of a working group for the National Cancer Advisory Board, National Cancer Institute.
BCRF is the highest-rated breast cancer research organization in the United States and the largest private funder of breast cancer research worldwide. They are committed to bringing an end to cancer by advancing the world's most promising research.