Manju Subramanian, MD, Named October's Distinguished Faculty of the Month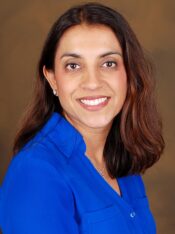 The Faculty Affairs Office is pleased to announce that Manju Subramanian, MD, associate professor of ophthalmology, has been named Distinguished Faculty of the Month for October. 
Dr. Subramanian joined our community in 2004. She is a retina specialist and serves as vice chair faculty affairs for the department. She received her MD from the University of Missouri School of Medicine and completed a residency at the University of Kansas Medical Center and fellowship in vitreoretinal disease and surgery at Tufts University School of Medicine and Ophthalmic Consultants of Boston.
Her nominators say Dr. Subramanian "has been a true advocate for all faculty in the department. She has been especially helpful to junior faculty in helping us navigate our clinical, teaching and research responsibilities.
"She is a true role model in her clinical acumen and her research prowess. She sees a complex array of patients in clinic and is always available to discuss a difficult clinical case and provide her own experience. Through working with her, we have learned about how to run large clinical trials with multiple stakeholders and bring ideas to publishable conclusions.
"Dr. Subramanian embodies all aspects of an academic physician."
Congratulations!