Sali Merjanah, MD, Receives Distinguished Fellow Award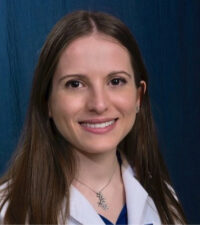 Sali Merjanah, MD, assistant professor of medicine, has received a Distinguished Fellow Award from the American College of Rheumatology (ACR) and the Association of Rheumatology Professionals (ARP) Membership and Awards Committee. Up to 10 clinical and research fellows in rheumatology fellowship training programs who have performed meritoriously are recognized annually.
 Merjanah received her medical degree in 2015 from Aleppo University in Syria and continued her training in the U.S., completing her internal medicine residency at Case Western Reserve University/Metrohealth in Cleveland, Ohio during which she received a Rajiv Reddy Academic Achievement Award which is given annually to three internal medicine residents for their academic achievement and contribution to the residency program. She completed her rheumatology fellowship at BU earlier this year.
Merjanah has been involved in clinical research since her residency. One of her areas of focus is in axial spondyloarthritis (axSpA). Merjanah was the lead author on a review of axSpA mimics. She also co-led work using the IBM Explorys Platform database showing increased prevalence of skin, head and neck cancers in axial spondyloarthritis. Merjanah's other areas of focus have been in Sjogren's syndrome and lupus, where she found an association between lupus and myasthenia gravis. She additionally co-led a review of malignancies in Sjogren's which has been published in Rheumatic Disease Clinics of North America.
During her rheumatology fellowship at BU, Merjanah was mentored by Maureen Dubreuil, MD, MSc, an international expert in axSpA and the director of research training for the rheumatology section and Jean Liew, MD, MS, assistant professor of medicine at BU. She studied fracture rates among veterans with ankylosing spondylitis and published her findings in the journal Arthritis Care & Research earlier this year.
Merjanah, who also is a rheumatologist at Boston Medical Center, is using the US MarketScan database to analyze the impact of Janus kinase inhibitors on major cardiovascular outcomes and venous thromboembolism among individuals with AxSpA. She is presenting this project as an oral presentation at the upcoming ACR Convergence 2023 in San Diego, CA. In addition, she has also been involved in the systematic literature review team for inflammatory back pain referral recommendations project under the auspices of SPARTAN (Spondyloarthritis Research and Treatment Network).
She completed the USSONAR (Ultrasound School of North American Rheumatologists) course during her fellowship under the mentorship of Eugene Kissin, MD, clinical professor of medicine and the program director of the rheumatology fellowship program at Boston University.
As she continues her career in academic rheumatology at the University, Merjanah plans to continue her work in the field of epidemiology and spondyloarthritis. She is also interested in developing new research projects combining her musculoskeletal ultrasound training and research interests.
The Distinguished Fellow Award is sponsored by the ACR and supported through the ACR Fellows Education Fund.