Philipp Mews, PhD, Receives Peter Paul Career Development Professorship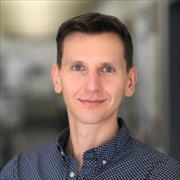 Philipp Mews, PhD, assistant professor of Physiology & Biophysics, is the recipient of the 2023-24 Peter Paul Career Professorship. Mews studies metabolic and epigenetic processes that underlie brain plasticity, working to develop novel therapeutic strategies for treating neuropsychiatric disorders, including PTSD and substance abuse. He received his PhD in cell and molecular biology and a BS in molecular biology from the University of Pennsylvania. He also holds a BS in biology from Freie Universität in Berlin, Germany. He completed his postdoctoral training at the Icahn School of Medicine at Mount Sinai in New York.
Each year, Boston University awards Career Development Professorships to several talented junior faculty members emerging as future leaders in their fields. The Peter Paul Career Development Professorship is made possible by the generous support of University Advisory Board Member Peter Paul (Questrom '71).