6th Annual Stanfield Lecture Emphasizes Importance of Doctor-Patient Relationship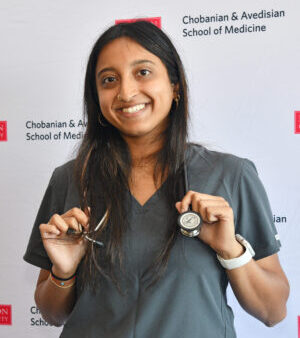 The meaning of the stethoscope draped around her neck was dawning on first-year medical student Rohini Kambhampati as she posed for a photo with classmates at the close of the 6th Annual Lorraine Stanfield, MD, Memorial Doctoring Lecture on August 28.
"I feel like I'm finally entering the field that I've always wanted to enter," said Kambhampati, whose family emigrated from India and her father is a Houston-based physician.
It's become a tradition that first-year medical students receive the tools of their profession – a stethoscope donated by alumni, a patella hammer, the tuning forks, ophthalmoscope and otoscope – following the Stanfield lecture that is intended to help new students understand the healing role of patient-physician interactions, especially how the physical examination contributes to caring for and diagnosing patients.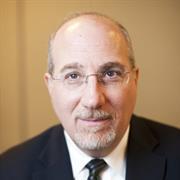 In delivering the keynote lecture, Stephen Tringale, MD'90, an assistant professor of family medicine, told the 175th entering class that the doctor-patient relationship is one of the most important healing tools they will possess.
"When I walk into the (examination) room, I think in my head that…I'm shoulder-to-shoulder with the patient, that I'm on the same side of the table," said Tringale, who also serves as the Codman Square Health Center medical director for quality and patient safety, performance improvement & research. He is a family physician and resident and student preceptor.
'How can I help you?' is one of the principles guiding his patient interactions. Even though medicine involves continuous learning and doctors experience tremendous personal and professional growth during their medical education and careers, the doctor-patient relationship is, at its core, a selfless experience in which knowledge is partnered with the human relationship to the patient.
"We are meeting the patient where they are, not where we are," Tringale said.
"Understand why you want to be a doctor, and this will sustain you through the tests, through the down times, the difficult relationships. It will sustain you through the hardships that you will be present for and bearing witness to…It will be your North Star; it will be your compass," said Tringale.
Stanfield, who died from breast cancer in 2017 at age 56, spent two decades taking care of  medically underserved patients at Dorchester House Health Center (now known as DotHouse Health) as a primary care provider. She was one of the first physicians involved in the Center for Community Health, Education and Research program which provided medical students longitudinal experiences at a community health center, and for 25 years strove to eliminate racial and ethnic disparities in health care through the education of health professionals and improving services to underserved population.
"Lorraine coached people to listen," said Michelle Nadow, chief executive officer at DotHouse Health. Stanfield was, by nature, intellectually curious and really wanted to get to know her patients and understand them in the context of their community. Nadow told students to venture beyond the four walls of the hospital or medical practice, into the neighborhoods, the coffee shops.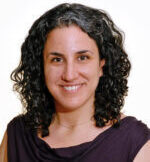 Molly Cohen-Osher, MD, assistant dean of medical education for curriculum and instructional design, and assistant professor of Family Medicine recalled how when she joined BU a decade ago as junior faculty and new mother, Stanfield help build a supportive space for her.
"She set an example for me of the type of clinician-educator and faculty mentor I wanted to become," said Cohen-Osher. "The qualities that people use to describe Dr. Stanfield are the qualities we want you to take away from your time here and bring into your future practice."