Jonathan Wisco, PhD, Named September's Distinguished Faculty of the Month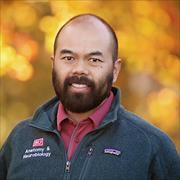 The Faculty Affairs Office is pleased to announce that Jonathan Wisco, PhD, associate professor of anatomy & neurobiology, has been named Distinguished Faculty of the Month for September. 
Wisco joined the department in 2018. He is currently co-director for Principles Integrating Science, Clinical Medicine and Equity (PISCEs); and director of the Laboratory for Translational Anatomy of Degenerative Diseases and Developmental Disorders. He earned his BS in biology from the University of Washington-Seattle and his PhD in anatomy and neurobiology from BU. He completed postdoctoral work in radiology from the Athinoula A. Martinos Center for Biomedical Imaging and Massachusetts General Hospital. He returned to the school from Brigham Young University where he was associate professor and co-director for the MRI Research Facility.
His nominators say, "he truly shines in the anatomy lab. Dr. Wisco loves teaching one-on-one or to small groups of students. He has become famous in the anatomy lab for his 'anatomy dances' …  on the days when we teach the limbs, he can be found in the center of a group of students who are studiously copying his dance moves to memorize the muscles of the extremities.
"Dr. Wisco also is an open-minded and creative teacher in the lecture hall. His lectures stand out for their demonstrations and creative formats, and he is one of the most experienced educators in the medical school when it comes to alternative teaching formats like team-based or problem-based learning."
"Dr. Wisco is an amazing teacher!"
Congratulations!