Researcher to Study Alzheimer's Disease in Asian Americans, Asian Canadians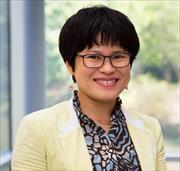 A $40.6 million grant from the National Institute on Aging (NIA), part of the National Institutes of Health (NIH), will fund the development of the Asian Cohort for Alzheimer's Disease (ACAD) study at Boston University Chobanian & Avedisian School of Medicine and 15 other academic medical centers across the U.S. and Canada. Gyungah Jun, PhD, associate professor of medicine, is one of four principal investigators and will lead Data Management and Analysis Core and Project 1. She will receive $511K per year for 5 years. The other co-principal investigators for the project are Li-San Wang, PhD, from Perelman School of Medicine at the University of Pennsylvania,  Van Ta Park, PhD, at the University of California—San Francisco and Helena Chui, PhD, at University of Southern California.
The project represents the first major Alzheimer's disease genetics cohort for Asian Americans and Asian Canadians, populations currently underrepresented in Alzheimer's disease research. Since other national datasets and clinical trials for Alzheimer's disease research have low representation from people of Asian ancestry – generally less than 3%, and as low as 0.5%– it's unclear if those research findings are broadly applicable to this minority group. To find out, the ACAD is recruiting adults age 60 and older, with or without cognitive issues, from Chinese, Korean and Vietnamese ancestry. Participants are asked to complete a lifestyle and demographic questionnaire, undergo a cognitive assessment and provide a saliva and/or optional blood sample.
"Alzheimer's disease research is largely focused on non-Hispanic white populations. Genetic and non-genetic risk factors in different ancestry populations will significantly improve prevention and treatment for Alzheimer's disease. Our study is the first cohort study to understand both genetic and non-genetic risk factors in Asian Americans and Asian Canadians," explained Jun.
Researchers will analyze the genetic data from the samples to identify risk variants in the Asian American and Asian Canadian population, compared to other populations and to those living in Asia. Based on these analyses, their goal is to develop blood biomarker benchmarks and a polygenic risk score model to measure the risk for Alzheimer's disease specifically among Asian Americans and Asian Canadians. They also will examine non-genetic biomarkers in combination with lifestyle and clinical information to look for clues to other contributing factors to Alzheimer's disease. The researchers plan to continue to seek collaborations to expand ACAD and follow up on the participants' health as they age to obtain a clearer picture of Alzheimer's disease progression.
The grant builds on a two-year, NIA-funded pilot grant awarded in September 2020 to assess the feasibility of the ACAD study design. As of May 2023, more than 1,800 individuals have joined the interest list for the study, with 713 formally consented to enroll. The goal of the new grant is to expand enrollment and recruit at least 5,000 participants over five years.
The research team engaged community leaders to learn how to best reach local Asian communities in each of the nine recruitment sites, located in cities with large Chinese, Korean and/or Vietnamese populations. By leveraging existing relationships and infrastructure and using community-based participatory research principles, the team aims to build trust, raise awareness and overcome potential barriers to participation, including language. A crucial part of the study involves training bilingual staff who can communicate with interested participants in their preferred language and help ensure that the outreach materials and strategies are designed to effectively reach older adults with Chinese, Korean or Vietnamese heritage.
Other participating institutions include University of British Columbia, University of California-San Diego, University of California-Irvine, Columbia University, Englewood Health, Indiana University, New York University, Icahn School of Medicine at Mount Sinai, Stanford University, Southern California Eye Institute, University of Toronto, University of Washington and Brigham and Women's Hospital in Boston.