Michael Wallace, PhD, Receives NIH Grant to Study Stress, Depression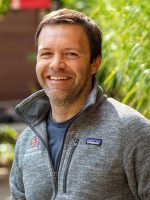 Michael Wallace, PhD, assistant professor of anatomy & neurobiology, was awarded a $2.8 million grant from the National Institutes of Health, National Institute of Mental Health. The award will fund his project "Serotonergic modulation of the circuits and cell-types of the lateral habenula."
The award, which runs from 2023-2028, supports his research into the cellular and circuit impacts of serotonin on a brain region implicated in chronic stress and depression called the lateral habenula. The lateral habenula is part of the epithalamus and has an important role in regulating motivational, cognitive and motor processes.
Release of neuromodulators, such as serotonin (5-HT), have profound effects on neural circuits and behavior, and change following chronic stress. Wallace will dissect the selective cellular and circuit effects of serotonin on specific neuronal subtypes within the lateral habenula (LHb) in vitro and in vivo. Dysfunction of the LHb may contribute to the pathophysiology of several psychiatric disorders, especially major depression.
"Following chronic stress we will examine how a common treatment for depression (administration of selective serotonin reuptake inhibitors, or SSRIs) modifies the temporal dynamics of 5-HT and effects neuronal activity in the LHb in vivo to understand how activity of specific LHb neuron-types change and effect behavior," he explains.
Wallace studies specific genetically defined circuits within the basal ganglia, a group of phylogenetically conserved structures in all vertebrates. His focus is on understanding how these circuits guide motivated behaviors, control goal-directed motor actions and how they are affected in diseases, such as Parkinson's disease, as well as depression and drug addiction.
"With expertise in electrophysiology, molecular biology, genetics, in-vivo optogenetics, behavioral and imaging methods, as well as computational modeling and programming, we apply a diverse range of cutting-edge techniques and knowledge of basal ganglia function to determine the synaptic and circuit underpinnings of behavior," explains Wallace.
Wallace received his undergraduate degree from Rutgers University and his PhD from the University of North Carolina at Chapel Hill. He came to the University in 2021 following a postdoctoral fellowship at Harvard Medical School.