Karsten Lunze, MD, MPH, DrPH, Receives Honorary Professorship
Karsten Lunze, MD, MPH, DrPH, associate professor of medicine, has received an honorary professorship from David Tvildiani Medical University (DTMU) in Tbilisi, Georgia.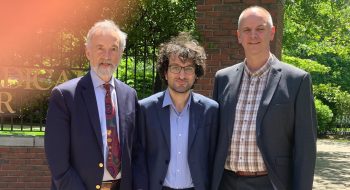 Since the 2008 Russo-Georgian War, Lunze has increasingly collaborated with academic and civil society partners on both sides of the conflict, including in the South Caucasus region and with partners at DTMU. Recognized as one of the top medical schools in the country of Georgia, DTMU was established following the end of the Soviet Union in 1991 as its first private medical university, aspiring to integrate its curricula and research activities in education and science systems of global standards. Boston Medical Center (BMC) currently hosts several scholars from DTMU.
Together with his wife Fatima Lunze and colleagues, he co-founded the non-profit "Health for the Caucasus". For over a decade, they have volunteered their efforts to help build pediatric and surgical capacity in the post-conflict North Caucasus and received the 2017 Sidel Levy Award for Peace from the American Association of Public Health for "outstanding contributions to preventing war and promote international peace".
Lunze holds a medical degree and doctorate in genetic epidemiology from Charité Medical School, Berlin, Germany, master's degree in public health from Harvard TH Chan School of Public Health, and doctorate in public health from BU. He received his clinical training in pediatrics at Charité Berlin, Germany, and Johns Hopkins Children's Center, Baltimore, and in public health/preventive medicine and addiction medicine at BMC.
Lunze's federally and foundation-supported global health research aims to improve access to quality care for disadvantaged populations worldwide by addressing intersectional stigma and other barriers to prevention and care via multi-level behavioral and pharmacological interventions for people with addictions, HIV, TB and other conditions. Lunze also serves as director of global health, section of general internal medicine at BMC and co-director, Providence/Boston Center for AIDS Research Substance Use Research Core.