18th Annual John McCahan Medical Campus Education Conference Celebrates Educational Scholarship
In her opening remarks for the 18th Annual John McCahan Medical Campus Education Conference on May 24, Medical Campus Provost and Dean Karen Antman, MD, told attendees that the event "has become a real celebration of educational scholarship."
"Our 3,000 Medical Campus learners are expected to master vast amounts of information, and therefore, we need to do everything we can to facilitate their learning," she said. "The primary mission of a university is education. The goal is evidence-based pedagogy, just like we have evidence-based science and evidence-based medicine, we should have evidence-based pedagogy."
Named in honor of John McCahan, MD, who served for 30 years as Chobanian & Avedisian School of Medicine associate dean for academic affairs and two years as interim medical school dean, the two-day conference was a mix of speakers, workshops, networking, a poster session and awards.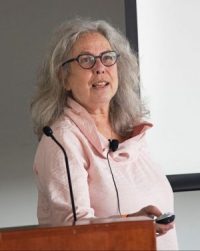 "Go big, or stay home," was the message from Linda Hyman, PhD, director of education at the Marine Biological Laboratory (MBL) in Woods Hole, who delivered the keynote address. Hyman urged her in-person and online audience to think big and embrace challenge and change as components of a journey of lifelong learning.
"Think bold. Do not be afraid to fail…Science in not just about learning a technique, but to really do adventurous science," she said.
Hyman fell in love with research as an undergraduate but wanted scientists to go beyond the bench and become mentors, educating others about their chosen field.
"If you're a graduate student, mentor an undergraduate; if you're an undergraduate, mentor a high school student. Give a talk at your alma mater. Spread the word," she said.
Hailing from New York City, Hyman's own journey in academia – from student to biomedical researcher to educator to administrator – took her from upstate New York to Minnesota for undergraduate work, and to local universities Brandeis and Tufts for her PhD and postdoc. She was an associate professor at Tulane University School of Medicine in New Orleans, took an academic/administrative position as vice provost of health science at Montana State University, while also serving as an assistant dean at University of Washington School of Medicine and director of a five-state medical education program. Hyman returned to Boston as associate provost for Graduate Medical Sciences before moving on to become the Burroughs Wellcome director of education at the MBL. Hyman also served in national leadership roles in medical education at the Association of American Medical Colleges and National Science Foundation.
"The diversity (of locations) was great, and it really embraces the principle of lifelong learning," said Hyman, who said she was constantly reinventing herself. "Being challenged is invigorating, so change is good."
She urged her audience to listen to both sides, take the time to learn, to advocate for and act on behalf of a cause.
The first day of the two-day education conference included virtual vendor sessions on products like the learning management system Blackboard Learn, resource list manager Leganto, and the health education platform Osmosis.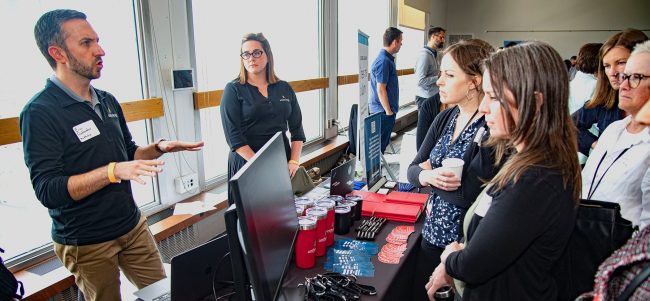 Following her keynote address on Day Two, Hyman joined Mary Harris, MSM, in leading a workshop on effective communication between research scientists and evaluators exploring the interplay between research and evaluation.
There were four other workshops:
Developing Five Microskills to Guide Learners in a Variety of Clinical Settings presented by Khoa Duong, MD, MPH; Zulfa Ishan, MD; Bryanne Macdonald, MD; Danielle O'Rourke-Suchoff, MD, MPH; Michael Taglienti, and Jeffrey Markuns, MD, EdM, focused on applying a teaching method from outpatient general medicine clinics, into other settings such as the operating room, specialty clinics, and emergent care.
Demystifying ChatGPT: Using ChatGPT to Supplement Library Resources in Biomedical Research led by Carly Schanock, MLIS, sought to deconstruct misconceptions held by faculty, staff, and students about ChatGPT and demonstrate how it can be used as a supplement to existing library resources.
Medical Educators Count, Too: Developing Educator-Specific Faculty Development for Your Department with Juhee McDougal, MD, Craig Noronha, MD, and Sonia Ananthakrishnan, MD, looked at how to overcome challenges for faculty like burnout, increased productivity pressures, and accreditation.
Alimentation (the Act of Receiving Feedback): Demolish Your Defensiveness led by Rodolfo Villarreal-Calderon, MD, and Shreya Bhatia, MD, proposed a model for students, trainees and staff to better receive and deliver more effective feedback.
Faculty members from the Chobanian & Avedisian School of Medicine, Henry M. Goldman School of Dental Medicine, School of Public Health and BU affiliate sites were recognized for their work as educators. Chava Chapman, MBBCh, MPH, an emeritus clinical associate professor at the school received the Doctoring Volunteer Faculty Teaching Award which cited her "ongoing commitment to student education before and after her retirement."
Others receiving Educator Awards included.
GMS Faculty Recognition Award — Pietro Cottone, PhD, PharmD, MS, associate professor of pharmacology & psychiatry.
Boston University Henry M. Goldman Faculty Appreciation Award, Predoctoral Category — Laura Kaufman, DMD, clinical associate professor of general dentistry
Boston University Henry M. Goldman Faculty Appreciation Award, Postdoctoral Category — Albert Price, DMD, DScD, MSc/CAGS, clinical professor of periodontology & oral biology
Crest Oral-B P&G Professional Oral Health Excellence in Teaching in the Basic Sciences Award — Brian Moore, MD, clinical professor of pathology & laboratory medicine
BUSPH Educational Innovation Award – Carol Dolan, PhD, MA, clinical associate professor in community health services.
Chobanian & Avedisian School of Medicine Affiliate Teaching Award – Michael Lowney, DO, instructor, department of family medicine
Chobanian & Avedisian School of Medicine Kaiser Permanente Silicon Valley Affiliate Teaching Award – Khamidulla Bakhadirov, MD, assistant professor of neurology, Kaiser Permanente Silicon Valley Regional Campus
Awards for abstracts included:
Best Faculty & Staff Abstract – "Utilizing Gamification to Improve Learner Engagement among Massachusetts School Nurses," Lesly P. Zapata, BA; Katherine Davis, MPH; Beverly Heinze-Lacey, MPH, BSN, RN; Erin Sivak, MSN, BSN, RN; Susan Franchi DNP, FNP-C, RN; Christian Mazimpaka MD, DrPH.
Best Resident & Fellow Abstract – "The Potential of PhD Progression for Boston University Medical Campus (BUMC) PhD Students," Bénédicte Gnangnon, PhD; Kuang Li, PhD; Dena F. Rezaei, PhD; Mishonne M. Marks; Chrysanthos Dellarocas, PhD; Sarah C. Hokanson, PhD; Sasha B. Goldman, PhD.
Best Student Abstract – "An Innovative and Flexible PhD-to-Clinic Transition Course to Improve MD-PhD Trainee Clerkship Performance," Songjun William Li, PhD; Marc A. Vittoria, PhD; Ying Jie Lock, PhD; Steven C. Borkan, MD.