Alumni, Faculty and Students Celebrate 9th Annual Carlos S. Kase BU Neurology Research Symposium

On Wednesday, April 26, students, faculty and alumni gathered in Hiebert Lounge for the 9th Annual Carlos S. Kase BU Neurology Research Symposium & Alumni Reunion. Coinciding with the 2023 American Academy of Neurology (AAN) annual meeting in Boston, distinguished BU Chobanian & Avedisian School of Medicine alumni in the field of neurology were able to attend both events.
The symposium included more than 40 posters representing the collaboration between medical students, residents and faculty in clinical research and quality improvement.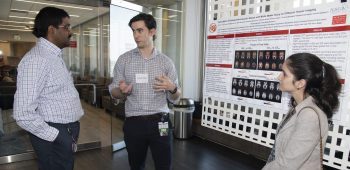 The symposium honors Carlos S. Kase, MD, emeritus professor of neurology who joined the faculty in 1984. During his tenure as department chair and chief of neurology at Boston Medical Center, Kase advocated for the expansion of neurology research, established the Stroke Service and trained more than 150 neurologists and stroke fellows.
While dedicated to Kase, the idea for the symposium came from alumna Anna Hohler, MD'98, chair of neurology at Steward St. Elizabeth's Medical Center, and Rafael Zuzuárregui, MD, a former neurology resident. It began as a way to unite students, residents and faculty through a research program. "We wanted to highlight not just the work of the medical students and the residents, but the collaborations that they had with the faculty to encourage those types of collaboration and expand upon the integral work that's done here in terms of advancing various areas of science," Hohler said.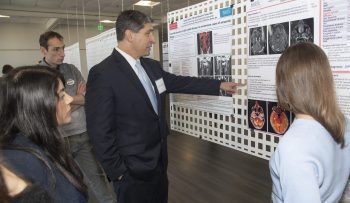 According to Chair and Chief David M. Greer, MD, the benefits of the symposium are noticeable with 8% of BU students entering the field of neurology compared to the national average of 2%. "I think part of it is just getting students really interested in neuroscience early on, whether it's research, education or seeing it's a great career path," Greer said.
After the formal remarks, attendees enjoyed hors d'oeuvres while viewing the posters and voting for the night's winning research poster. Katelyn Bird, MD, assistant professor of neurology, awarded Research Assistant Daniela Benitez, MD, who accepted on behalf of her team led by Associate Professor of Pediatrics and Neurology Alcy Torres, MD, for their research "Soccer-related concussion in children and adults over the past 10 years: a systematic review."
The event's keynote speaker was Soojin Park MD, FAHA, FNCS, a former neurology resident at BMC and mentee of Kase, who discussed her research in the development and clinical evaluation of neurocritical care.
An associate professor of neurology at Columbia University Vagelos College of Physicians and Surgeons and associate attending physician at New York-Presbyterian/Columbia University Irving Medical Center, Park praised the nature of the event, connecting students and alumni through their field of research. "Just to be able to meet all these alumni and then see how the faculty are related to those alumni … I think it would have been inspirational as a student here to be able to see this," Park said.