Sean D. Tallman, PhD, RPA, Receives Fulbright Scholar Award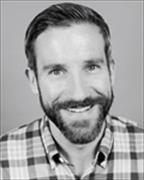 Sean D. Tallman, PhD, RPA, assistant professor of anatomy & neurobiology, has been awarded a Fulbright Scholar Award. This award allows U.S. academics to engage in multi-country, trans-regional projects.
Tallman will travel to South Africa for 10 months to conduct human skeletal biology research for his project, "Assessing the Effects of Disadvantage and Ancestry in Skeletal Health and Forensic Medicine" at the University of Cape Town and Stellenbosch University.
Tallman will use biological/forensic anthropology methods to understand if and how segregation from apartheid and structural racism impact the skeleton, particularly with age-at-death estimation and health. "I'll be testing the public health derived weathering hypothesis, which has found that the stresses associated with long-term exposure to structural inequities in a race-conscious society are psychologically embodied, wherein people of color (POC) may age more quickly and experience earlier health deterioration compared to non-POC," he explains.
Tallman will also develop forensic anthropological methods that are population-inclusive and allow for the removal of the increasingly problematic ancestry/population affiliation estimation from the biological profile that forensic anthropologists establish for skeletonized remains (which typically includes assigned sex, age-at-death, ancestry, and stature estimations). He will also assist with forensic anthropology cases, sitting on thesis/dissertation committees, and mentoring graduate students in research, working alongside his South African biological anthropology colleagues.
At the medical school Tallman teaches courses in human osteology, biological anthropology method and theory, bioarchaeology, forensic anthropology and human rights. He has secondary appointments in the department of anthropology and program in archaeology at Boston University and teaches in BU's Kilachand Honors College. He heads the Forensic and Bioanthropology Laboratory Group and advises students in Graduate Medical Sciences' MS in forensic anthropology program. He also serves on the University Council, Faculty Council Equity and Inclusion Committee, Native American Graves Protection and Repatriation Act Review Committee, the School of Medicine's Diversity Steering Group, LGBTQIA+ Recruitment Committee, and the Department of Anatomy & Neurobiology's Diversity, Equity, Inclusion, and Justice Committee.
Tallman is a registered professional archaeologist, a fellow in the anthropology section of the American Academy of Forensic Sciences, and a forensic anthropologist with the National Disaster Medical System Disaster Mortuary Operational Response Team. His ongoing research examines human skeletal biology; sex and ancestry/population affiliation estimation; skeletal variability of sexual dimorphism and ancestry in East and Southeast Asia; human identification; population history and structure; forensic methods; CT scan data; secular change; diversity, inclusion, and mentorship in forensic anthropology; and critical race theory in biological and forensic anthropology.
He is an associate editor for the journals American Anthropologist, Forensic Anthropology and Yearbook of Biological Anthropology.
The Fulbright U.S. Scholar Program offers over 400 awards in more than 135 countries for U.S. citizens to teach, conduct research and carry out professional projects around the world.