Esther Bullitt, PhD, Awarded $1.5 Million NIH Grant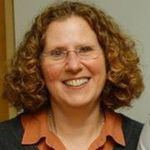 Esther Bullitt, PhD, associate professor of pharmacology, physiology & biophysics, was awarded $1.5 million from the National Institutes of Health that will go toward the purchase of a cryogenic electron microscope. Additional funds have been pledged by BU President Robert A. Brown and Professor and Chair of Pharmacology, Physiology & Biophysics Venetia Zachariou, PhD.
The FEI ThermoFisher Glacios-2 cryo-EM is capable of determining structures at near-atomic resolution. Researchers will use this new instrumentation to study cellular function and dysfunction, and to guide development of new therapeutics. Located in a new Boston University Service Center, the cryo-EM will help advance research projects across both BU campuses.
"We are excited that we will be hiring new faculty to our department, who will have access to this new, state-of-the-art cryo-EM for their research," said Zachariou.
Planned research includes discovering the mechanisms of action for macromolecular assemblies such as those that regulate muscle contraction, protein translocation and enzymatic activity. New research will be used to discover new therapeutic targets for treatment of cognitive, neurological and neuropsychiatric disorders, Cardiovascular Disease, and Infectious Diseases.
Work in the Bullitt lab currently focuses on bacterial adhesion pili (fimbriae) and virus replication. These projects address basic medical research questions directed at understanding bacterial adhesion to human host tissue and viral replication. "Our data support development of novel therapeutics targeting these important health issues including, for example, development of therapeutics and a vaccine against traveler's diarrhea," she adds.
"Structural studies of biological macromolecular assemblies are providing an understanding of cellular function. In our laboratory we will utilize this new microscope and the structural data it provides to investigate questions about microbial virulence," explains Bullitt.