Medical Students Find Their Future in a Match Day Envelope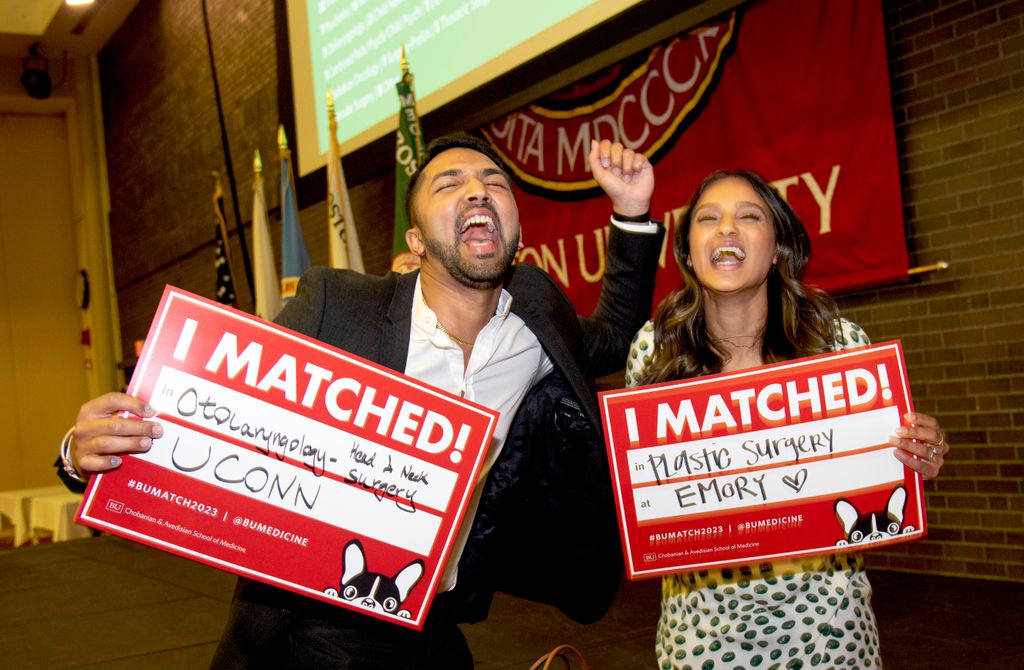 Like her peers, fourth-year medical student Kenya Homsley felt nervous as she stood in front of the rows of long white envelopes laid out on banquet tables. In a 71-year-old ritual known as Match Day, at the stroke of noon, she and tens of thousands of medical school students nationwide opened the envelopes that told them where they would be spending the next four to seven years, learning their specialty in a hospital or other medical setting.
"Deep down, even with all the nerves, I do feel like I'm ready. There's so much more to learn, but I'm right where I'm supposed to be," said Homsley, a native of Charlotte, North Carolina, who matched with her first choice in obstetrics and gynecology at Kaiser Permanente Oakland Medical Center.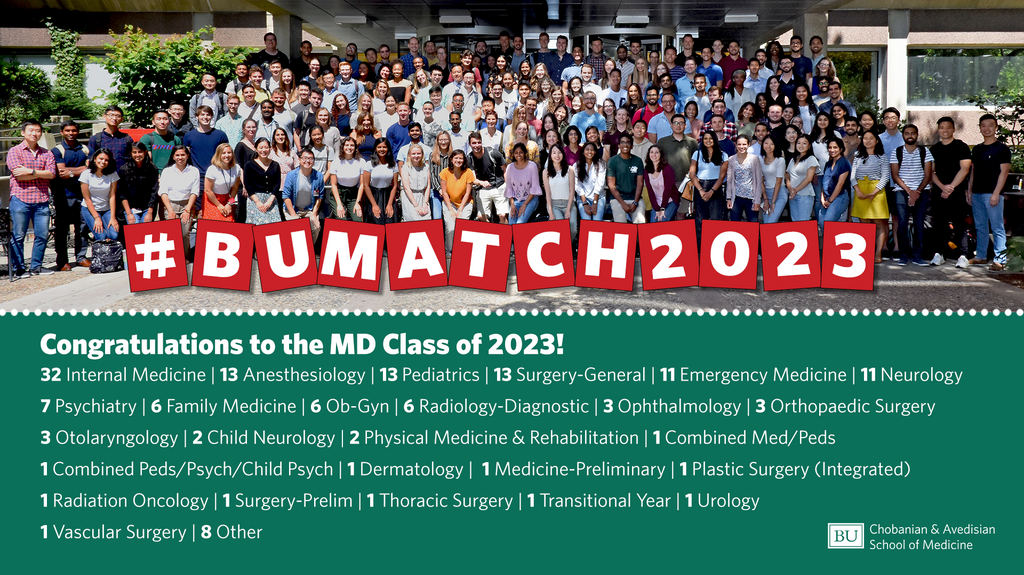 Match Day traditionally occurs on the third Friday in March and uses an algorithm to match medical students to residency programs based on preference lists developed by both the students and the schools through an intense application and interview process. Programs are located in a medical facility with the resident diagnosing, managing care and treating patients in their specialty under supervision with increasing responsibility as the years progress.
"You will now be at the front lines. You will be the doctor that the patient will trust," said Priya Garg, MD, associate dean for medical education, urging students that as residents and physicians they remember the social mission that drew many of them to the school.
"Many of you came in here loving social justice, equity. That was your journey to us, that's been your journey with us," Garg said. "Do not forget your role in changing the way medicine will be forever. Use your voices and the power you have as a doctor."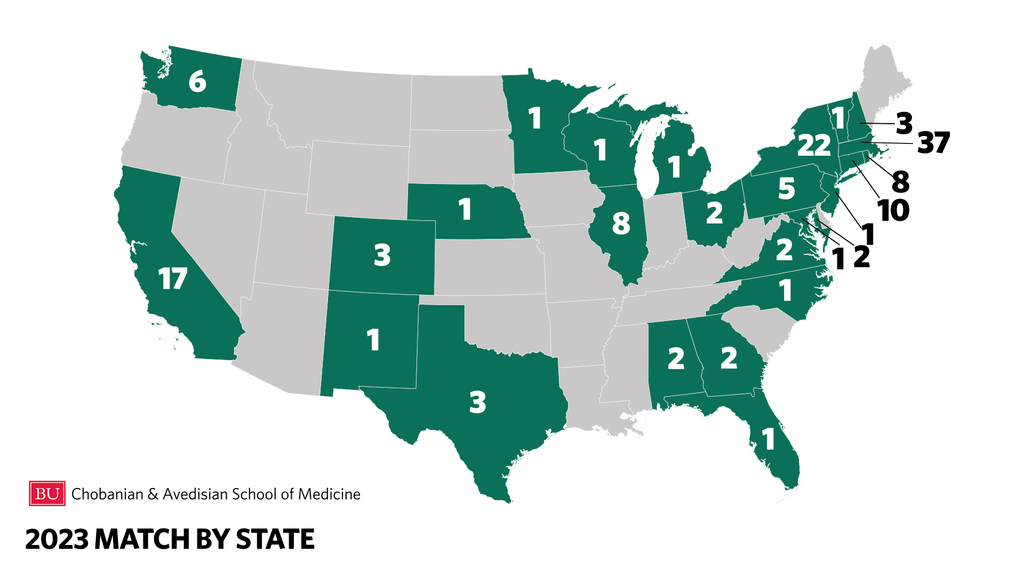 "On behalf of the faculty, I am delighted to congratulate you on reaching your Match Day," said Dean Karen Antman, MD. "Most of you arrived at medical school in August 2019. You had a pretty conventional medical education for the first semester and a half, through February 2020, anyway…then COVID upended your education starting with studying for and taking the Step 1 exam. Your clerkships were a totally unique experience.
"In addition to medicine, you learned flexibility and creativity – important skills in medicine – as well as disaster management, up close and personal." Antman continued. "I'm pretty sure your generation of physicians will be distinctive."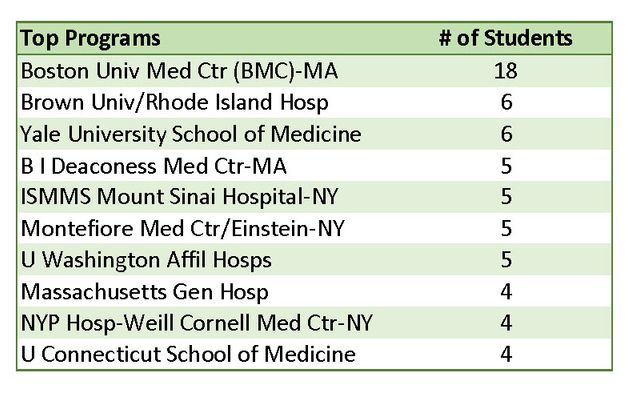 Jyla Hicks is from Ohio and graduated from North Carolina Central University. She said she came to the school to work with underrepresented and marginalized patient populations and was happy to have matched in internal medicine with BU's primary teaching affiliate Boston Medical Center (BMC).
"Just to have the privilege to continue to serve those systematically marginalized populations is my goal," said Hicks. "I know, especially with the minority populations, it's really important for patients to see providers who look like them, so I love that I'm adding diversity to the already diverse Boston Medical Center staff."
There was a point in his medical school education where Madhav Sambhu thought he may not have what it takes to be a doctor. But he took an extra year, switched his focus to neurology, and found mentors and family support that kept him motivated and hopeful. Even though he was nervous on Match Day, he knew he had persevered, matching at Emory University Hospital in his hometown of Atlanta.
"I struggled a lot and I think there was a point at which I didn't know if I was going to be a doctor and today was the day I realized it was possible, that I'm going to do this," he said.
Carolyn Wilson from Long Island, New York, has been at Boston University as an undergraduate and medical student for seven years.
"I'm excited to be going back home after such a long, long time," said Wilson who learned she had been matched in internal medicine with New York University Grossman School of Medicine.
"Today, during that hour waiting to open up your envelope, that's when your nervousness peaks," she said. Wilson was looking forward to working in a city hospital with similar clientele to those she'd experienced at BMC.
Following graduation in May, 37 medical students will be staying in Massachusetts, including 18 at BMC, five at Beth Israel Deaconess Medical Center, four at Massachusetts General Hospital,  two each at Brigham & Women's Hospital, Children's Hospital Boston, UMass Chan Medical School, and Tufts Medical Center, and one each at Cambridge Health Alliance and St. Elizabeth's Medical Center.

New York (22), California (17), and Connecticut (10) were the next most popular states. The class matched in a range of programs, with the top specialties being internal medicine (32), anesthesiology, pediatrics, and general surgery (13 each), emergency medicine and neurology (11 each).
During Match Day festivities Rochelle P. Walensky, MD, MPH, director of the Centers for Disease Control and Prevention and administrator of the Agency for Toxic Substances and Disease Registry, was announced as the convocation speaker for the MD/PhD ceremony, and the MD class of 2023 selected Divya Satishchandra as their student speaker.
See more in the Facebook album