GSI Research Symposium Returns in Person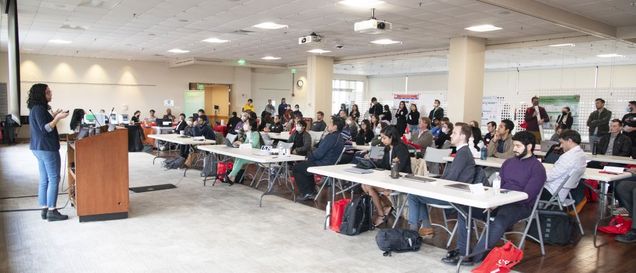 The 14th Annual Genomics Science Institute (GSI) Research Symposium returned to an in-person event on Nov. 17, with lightning talks, new faculty talks and a poster session.
Held in Hiebert Lounge on the Medical Campus, GSI Director Nelson Lau, PhD, hoped that spontaneous networking and collaboration between researchers would again happen organically.
"Zoom is useful but being able to engage that person face-to-face and saying, "Let's get together for another meeting," and to plan collaboration are facilitated much better in person," Lau said.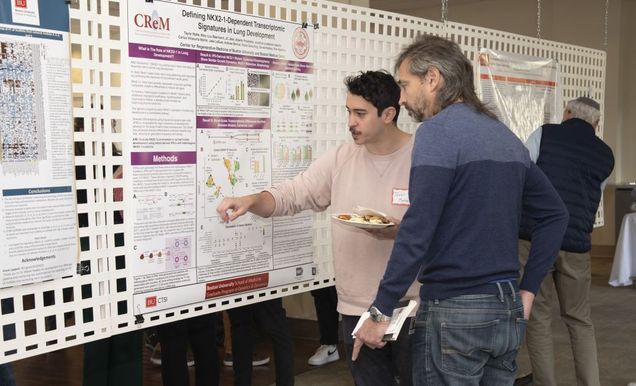 This year's symposium featured 21 poster presenters, nine speakers and more than 100 attendees. The event typically attracts more than 100 people each year, including the last two years when the event was held online.
"I very much appreciate the advocacy of the GSI, and their support of genomics research to increase our recognition in genetics locally and nationally," said Karen Antman, MD, BUMC provost and dean of the Chobanian & Avedisian School of Medicine.
Antman praised the GSI for strengthening the network of faculty members working on the Medical and Charles River campuses and for promoting basic and applied research in genetics and genomics. The symposium, she said, helps showcase these collaborations and inspires new partnerships and grant applications.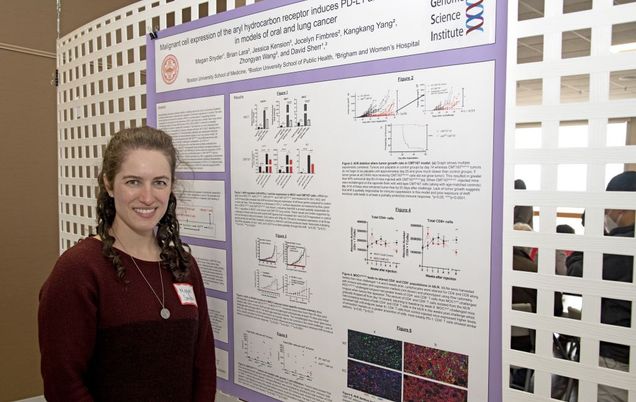 The event began with Lightning Talks, presentations by doctoral candidates and post-doctoral researchers who were selected from those who applied to present their research in a poster format.
Biochemistry graduate student Anthony Spinella outlined his work in "Defining age-associated oncogenic drivers of an immune-evasive tumor population in oral squamous cell carcinoma." Robert Fisher, a PhD student in genetics and genomics in the department of dermatology, gave a presentation on "CoRest promotes alternative splicing in melanoma." Ahmed Youssef, a graduate student in the department of bioinformatics, discussed his research in "Single cell deconvolution of bulk proteomics," and dermatology post-doctoral researcher Stephen Moore talked about "Robustness and evolvability: Transcriptional control in development and immunity."
Faculty judges selected Spinella, a PhD Candidate in the Varelas Lab, presenting in the Lightning Talks, and Jackie Turcinovic, a Ph.D. Candidate in the Connor Lab, presenting in the Poster Session for the two Grand Research Pilot Prizes. Each prize comes with a $15,000 award completely allocated for spending at one of the Chobanian & Avedisian SOM research cores.
"It's a significant amount they can use to take their research to the next level," said Lau. This was especially valuable, he said, given the new data science core that provides experts to do large-scale data analysis. Lau hopes that this year's GSI symposium also showcases opportunities the data science core represents for researchers whose work creates a lot of data.
"We hope this symposium encourages more labs to use the data science core so that they can bring their research full circle," Lau said.
The symposium included four new faculty talks. Assistant Professor of Biology Zeba Wunderlich, PhD, discussed "Robustness and evolvability: Transcriptional control in development and immunity." Assistant Professor of Computer and Data Sciences Pawel Przytytcki, PhD, presented "Integrating large-scale genomics data to decipher the role of noncoding genome in disease."
Assistant Professor of Vascular Biology Angie Serrano, PhD, discussed "KMT2D roles during cardiovascular and neurodevelopment." Assistant Professor of Pharmacology & Experimental Therapeutics Julia TCW, PhD, presented "Cholesterol and matrisome pathways dysregulated in Alzheimer's disease brain astrocytes and microglia."
In the poster session, which was open to undergraduate and graduate students, postdoctoral fellows, and faculty, top-ranked posters by Turcinovic, Jane Zheng, Alison Tipton, Dylan Steiner, Rachel Ho and Yvonne Lok received $100 honorariums.