Students, Faculty, Administrators Cheer Historic Name Change, Major Donation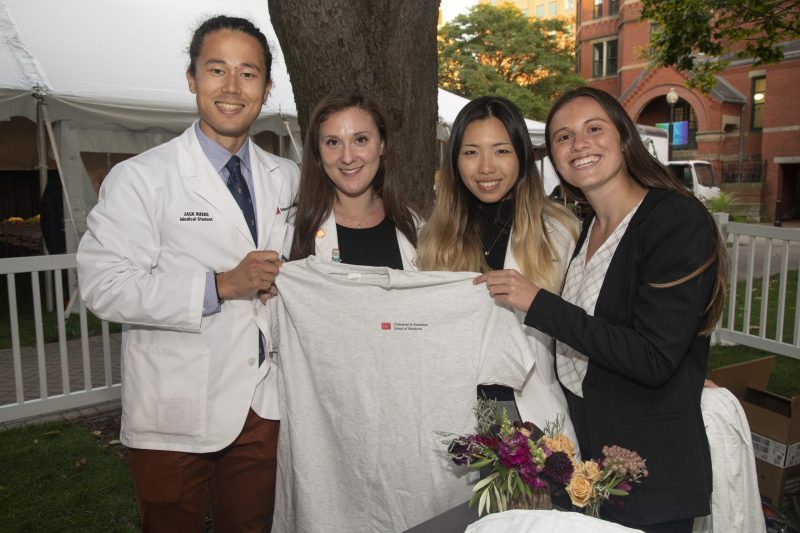 Up until the big reveal, attention had been focused on the two men on stage. Edward Avedisian and Aram Chobanian, MD, were childhood friends whose parents had fled genocide in Turkish Armenia in the 1910s. They lived four doors away from one another in Pawtucket, R.I., and both achieved remarkable success – Avedisian as a clarinetist with the Boston Pops and Boston Ballet Orchestra and as an extremely savvy investor who quietly accumulated a fortune, and Chobanian who had a long career at Boston University as a pioneering cardiologist, dean of the medical school, medical campus provost and university president.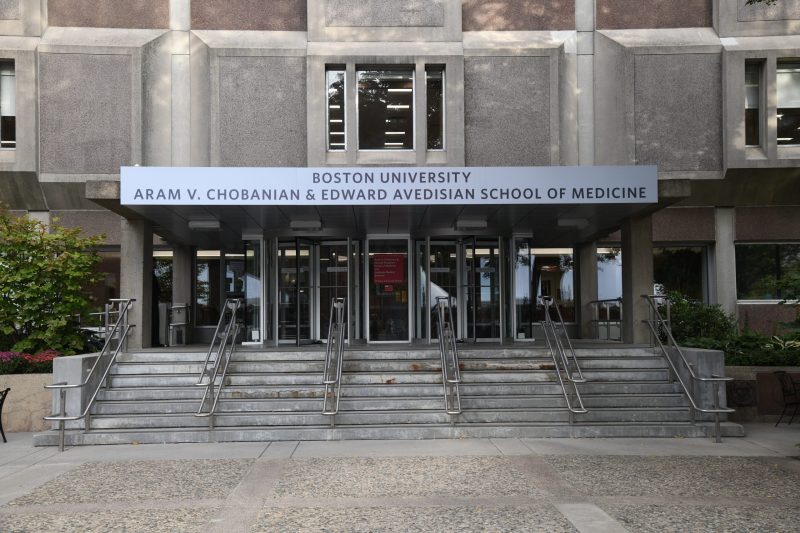 The two were onstage on Talbot Green Thursday afternoon to announce Avedisian's donation of $100 million and the renaming of the medical school as the Aram V. Chobanian & Edward Avedisian School of Medicine. Under the big white tent they were joined by invited guests, medical and graduate students and other curious passersby that had gathered on the lawn to witness the new name revealed on the entrance to the Instructional building.
Reactions from the audience varied depending on their connection to Avedisian and Chobanian and how the $100 million – with $50 million going to student scholarships, $25 million to endowed professorships, and another $25 million to research and teaching – will affect them.
All were drawn to the story of a lifelong friendship.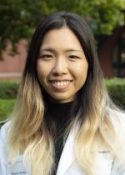 "It was so heartwarming to see the both of them talk about the challenges they had to overcome and the people they helped along the way," said Melissa Hwang, a second-year medical student from Taiwan who had volunteered to work the event Thursday.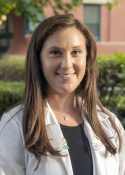 "I think it's incredible. I feel everything helps," said second-year medical student Eva Gaufberg, from Winchester, Mass., who also volunteered to help out at the ceremony. Gaufberg found it extremely thoughtful that Avedisian decided to give the largest portion of the gift to relieve student debt.
"Being able to make things even just a little bit more affordable is important and something I think a lot of students think about when choosing a school," said Gaufberg.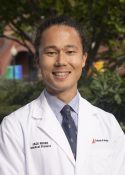 "I can say that debt is on the minds of all medical students," said Jack Ruske, a third-year MD student. "Students will be able to come and train at BU and BMC (teaching affiliate Boston Medical Center) and do that because they want to help underserved populations rather than going somewhere else that is less expensive."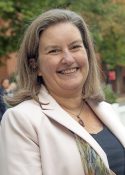 Angela Jackson, MD, associate dean for student affairs and associate professor of medicine/GIM, thought the additional scholarship money would make a huge difference to students. But she also felt the message being conveyed by the gift was an affirmation of the students and the medical school's mission.
"Most important is that there is an individual who cares so much about the future of medical students as individuals, and also about the future of medicine…that they are willing to provide this huge gift to the medical school," said Jackson. "I think it speaks volumes to the recognition that we're doing good work…"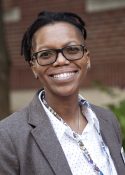 "It really highlights and emphasizes the role and the influence the institution has because (Avedisian) could have given this money to a number of different institutions," said Angelique Harris, PhD, associate dean of diversity & inclusion. "I was very excited about the prospect of faculty who are doing this really innovative, incredible research being able to be retained here…"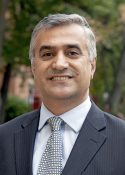 As a fellow Armenian, Fredric Majnoun, associate dean for research administration, was proud to see Avedisian's and Chobanian's names on the medical school. Chobanian hired him 22 years ago. The $50 million split between endowed professorships and teaching and research will help recruit and retain high quality faculty, he said.
"Recruiting faculty is expensive, and these kinds of donations will help us compete with other universities," said Majnoun. The money also helps retain faculty.
"It gives them the freedom to choose what kind of research they want to do, who they want to recruit, what kind of equipment they want to purchase and what renovations need to be done," he said.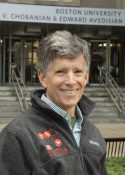 Chobanian also hired Benamin Wolozin, MD, PhD, professor of pharmacology and experimental therapeutics, who stood on the sidewalk watching the ceremony.
"I just have a really warm place in my heart for him," said Wolozin. "He's such an amazing guy and the idea of a name change that reflects on two people so intimately connected to BU, I think it's wonderful. And that the money fits in with the mission of BU."
Wolozin said he was surprised at the size of the donation.
"BU needs those kinds of donations to really achieve greatness," he said.