Toby C. Chai, MD, Elected Trustee of American Board of Urology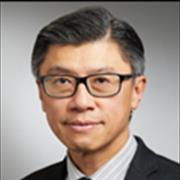 Toby C. Chai, MD, chief and chair of Urology, has been elected Trustee of the American Board of Urology (ABU).  His six-year term will begin on Feb. 23, 2023. Chai was nominated to the ABU by the American Urological Association (AUA).
Chai has been actively involved in urologic research to seek improvements in urologic care. He received career development awards from the American Foundation for Urologic Diseases and a K08 grant from the National Institutes of Health (NIH) prior to receiving independently funded investigator-initiated research awards from the NIH as principal investigator including R01, U01 and P20 grant mechanisms.
He has been recognized for his academic accomplishments including the Society of Basic Urologic Research Young Investigator Award; the Society of Urodynamics, Female Pelvic Medicine & Urogenital Reconstruction Zimskind Award and Distinguished Service Award; the AUA Victor A. Politano Award for outstanding work in treatment of urinary incontinence and innovations in bladder research and Distinguished Service Award for work on urologic research advocacy.  He is a recipient of the Continence Champion award from the advocacy group, National Association for Continence.
Chai serves as an associate editor for Journal of Urology and on the editorial board for American Journal of Physiology – Renal Physiology. He has served as both a charter member and ad hoc member of numerous NIH grant review committees. He was a charter member for the US Food and Drug Administration Bone, Reproductive, and Urologic Drug Advisory Committee. 
Founded in 1935, the American Board of Urology acts for the benefit of the public by establishing and maintaining standards of certification for urologists, working with certified urologists to achieve lifelong learning to insure the delivery of high quality, safe and ethical urologic care.  Six urologic societies nominate to the ABU and sponsor its activities, including the American Urological Association, the American Association of Genitourinary Surgeons, the American Association of Clinical Urologists, the American College of Surgeons, the Society of Academic Urologists, and the Societies for Pediatric Urology.