Ethan Gaston Named September's Distinguished Staff of the Month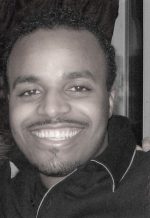 The Dean's Office is pleased to announce that Ethan J. Gaston has been named Distinguished Staff of the Month for September.
The animal care supervisor for regulated species, Ethan has been a member of the BUSM community since July 2008. His nominators say, "Ethan always steps in to help his staff. He is one of the most hard-working, dedicated and compassionate individuals.
"He consistently demonstrates professionalism, diligence, attention to details and pride in his work. Ethan frequently comes in early to help us with procedures and often stays late to assist us in animal care."
Another said, "As a supervisor, he is patient and an excellent teacher. He's always willing to spend extra time training personnel who may be having difficulties with a new task or procedure."
"Ethan is kind, humble and empathetic, and truly cares about the animals under his care."
Congratulations!