Esther Bullitt Named July's Distinguished Faculty of the Month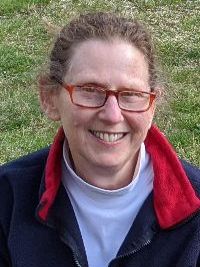 The Faculty Affairs Office is pleased to announce that Esther Bullitt, PhD, is July's Distinguished Faculty of the Month.
The associate professor of physiology & biophysics received her AB in physics from Grinnell College and her PhD in biophysics from Brandeis University. Bullitt joined our community in 1994 as a postdoctoral fellow in the laboratory of Dr. Christopher Akey and became an instructor in 1996 before being promoted to assistant professor in 1998 and associate professor in 2000. Currrently, she is director of student affairs for the department of physiology and biophysics.
Bullitt's research focuses on the pathogenesis of bacteria that cause Traveler's Diarrhea, using cryo-electron microscopy to study the small thin fibers on the surface that attach these bacteria to the gut. She has found that a component of saliva can bind to these fibers and inhibit bacterial binding, and she is working to find the mechanism of its action and to explore its anti-microbial potential.
Her nominators say, "Dr. Bullitt ensures students in the department thrive with her academic advising, teaching experimental methods and writing and presentation skills. She adopts each student as her own and invests in each student's success. She is committed to attracting, supporting and promoting diverse faculty and students.
"Dr. Bullitt is an exemplary citizen and a role model for young scientists, especially women."
Congratulations!