C. James McKnight, PhD, Appointed GMS Associate Provost/Dean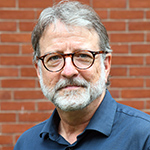 C. James McKnight, PhD, associate professor of physiology & biophysics, has accepted the position of Associate Provost and Dean for Graduate Medical Sciences (GMS), effective Jan. 1, 2022, replacing Deborah Stearns-Kurosawa, PhD, who stepped down from the role at the end of 2021.
McKnight will be a member of the senior leadership teams of the School of Medicine and Medical Campus. He will oversee curricula and execution of all graduate programs, including recruitment, admissions, ongoing program activities, new program development and student outcomes. In addition, he will continue to foster the collaboration of the basic science and clinical departments in education and graduate research.
McKnight received his BS in chemistry from Washington College, Chestertown, MD; master's in chemistry and biochemistry from the University of Delaware; and PhD in biochemistry from the University of Texas Southwestern Medical Center, Dallas. He completed a post-doctoral fellowship at the Whitehead Institute for Biomedical Research at MIT, and then joined BU in 1995 as assistant professor of biophysics.
McKnight is a structural biologist who directs the BUSM Core Facility for Structural NMR Spectroscopy. He also serves as co-course director of Foundations in Biomedical Sciences in the PhD curriculum, and co-directs the renal section of the PrISM course for medical students. Dr. McKnight teaches multiple medical, dental, PA and GMS classes on campus and is an experienced mentor.
He chairs both the GMS Committee on Academic Standards and the Program in Biomedical Sciences (PiBS) Admissions Committee, recruiting committee members from the 10 participating doctoral programs and working with them to fairly evaluate the hundreds of PiBS applications with the goal matriculating a diverse class of outstanding scientists.
Special thanks to Dr. Stearns-Kurasawa for her outstanding leadership as Associate Provost and Dean of GMS, particularly in guiding GMS through the pandemic to date.