Joseph Mizgerd Named Jerome S. Brody Professor of Pulmonary Medicine
Joseph P. Mizgerd, ScD, was named the inaugural Jerome S. Brody, MD, Professor of Pulmonary Medicine in a ceremony held both in-person and over Zoom. On Sept. 14, colleagues, friends and family gathered to witness the installation and celebrate his contributions to the pulmonary field.
Mizgerd is Director of the Boston University Pulmonary Center and professor of medicine, microbiology and biochemistry. His work focuses on immunology in the lung and its influence on acute lower respiratory tract infections.
This professorship honors Jerome Brody, professor emeritus of pulmonary, allergy, sleep & critical care medicine. He was the longest serving director of the Pulmonary Center, overseeing its growth and accomplishments for more than 20 years. He has made many seminal contributions relating to cigarette smoking-induced lung disease, including lung cancer and COPD.
BUMC Provost and BUSM Dean Karen Antman, MD, kicked off the event. She noted that professorship installations offer some of the most joy-filled moments in academic medicine. Then she opened the floor to David Coleman, MD, FACP, Wade Professor and Chair of Medicine.
"Professorships are a very important part of the way that we acknowledge people in our environment who have been really meaningful, important elements of the character of our department and our institution," he said.
He added, "Dr. Brody has made indelible contributions to the many people that he inspired and the individuals that he mentored."
Avrum Spira, MD, MSc, professor of medicine, pathology and bioinformatics and the Alexander Graham Bell Professor in Health Care Entrepreneurship, then spoke about Brody's legacy in pulmonary medicine and their relationship as collaborators.
"You always were there to help me take the leap, take the risk, to believe in myself," Spira said to Brody. "From the bottom of my heart, thank you, not just on my behalf, but from the ocean of people who you've influenced in such a profound way. You're a unique, visionary leader."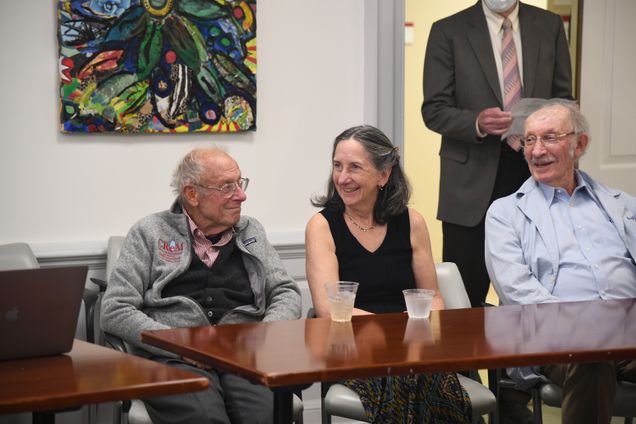 Karen Brody, on behalf of herself and her sisters, thanked the Pulmonary Center and BUSM for honoring their father's legacy.
"It makes us so proud that our father's lifetime of research and teaching are being recognized through this professorship," she said.
Brody's brother, stepdaughter and stepson also shared sentiments of admiration and pride before Brody stepped up to the podium to thank the speakers for their kind words.
Matthew Jones, PhD, associate professor of Pulmonary, Allergy, Sleep & Critical Care Medicine and a faculty member in the Pulmonary Center, joined via Zoom to introduce Mizgerd to the group. Jones had been one of Mizgerd's trainees as a postdoctoral fellow in 2003, when Mizgerd was an assistant professor at Harvard School of Public Health.
"He fosters a culture of curiosity, scientific rigor, insightfulness and hard work, and it's balanced with reflection, life accommodation and fun," Jones said.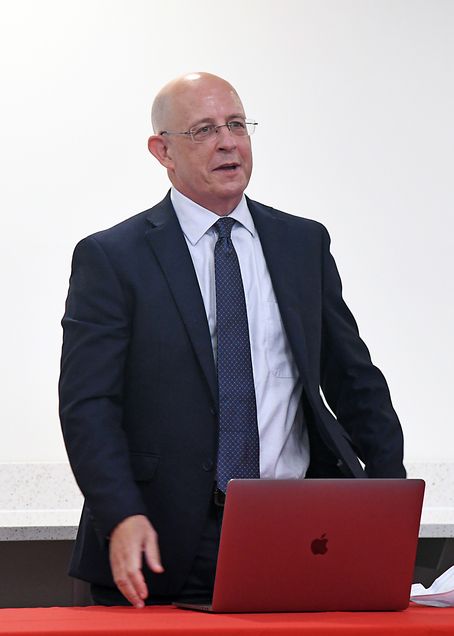 Mizgerd then took to the podium to thank Brody, colleagues, mentors, friends, family and his many other supporters.
"This professorship is the most important, most meaningful and most personally significant honor I've ever received," he said.
Congratulations!