22 STaRS Share Their Summer Research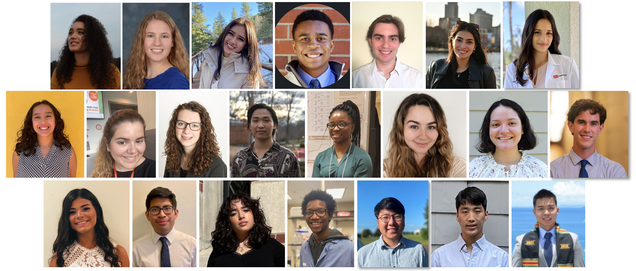 The Summer Training as Research Scholars (STaRS) Program concluded its 10-week research experience with a virtual symposium held Aug. 5.
Overseen by Graduate Medical Sciences (GMS), the STaRS Program is funded by the National Heart, Lung and Blood Institute of the NIH. It has trained over 150 scholars and received more than 3,000 applications since its inception.
Trainees work with faculty, fellow students and postdoctoral associates on cutting-edge biomedical research projects, build powerful and lasting relationships and set a course for college and career success.
Each week the scholars worked alongside their mentors realizing virtual projects, presenting their research at meetings and attending seminars aimed at preparing them for application to graduate and medical school on a research path.
After an opening welcome from Director of the STaRS Program Isabel Dominguez, PhD, who also is assistant professor of medicine, the virtual symposium began by acknowledging the faculty, professionals, student mentors and administrators that contributed to the success of the program. The scholars then introduced themselves and their research project goals.
The scholars presented their posters and discussed their work on a variety of topics, including heart-brain axis, cell dynamics, signaling pathways, cardiovascular disease, amyloidosis, COVID-19, lung cancer screening, cerebral small vessel disease, cancer genomics, depression, proteoglycans, brain structures, exercise and memory, kinase function, tandem repeats in the chromosome, bio markers of schizophrenia, alcohol use, Alzheimer's disease and cancer, viral genome mutations, vitamin A treatment of pneumonia, gender/sex in athletics and breastfeeding guidelines. They received certificates by mail to mark the completion of the program.
This year's class included 19 undergraduates from across the country and three current BUSM students. The 2021 Scholars are Shantalle Martinez, Hieu Nguyen, Hailey O'Brien, Nicole Briand, Ronald Yang, Sofia Uranga, Julie Aguiar, Ainsley McDonald-Boyer, Claire Gray, Mariana Castaneda, Abraham Sontay, Kamari Weaver, Noah Fields, Jack Friend, Estefania Rivera, Victoria Ontiveros, Liliveth Nwanguma, Nelia Lara-Torres, Zach Yung, Jean Devera, Frances Lara Rodriguez, Arturo Toro.
Faculty mentors included Rhoda Au, MD; Ruby Bartolome, DO; Gary Benson, PhD; Jules Canfield, MPH; Felicia Chen, PhD; Illeana De Anda-Duran, MPH, MD; Isabel Dominguez, PhD; Miriam T Harris, MSc, MD; Emily Hurstak, MPH, MD; Phillip Hwang, PhD; Rachel Fearns, PhD; Hui Feng, PhD; Daniel Fulford, PhD; R. Jarrett Rushmore, PhD; Spencer Low, MD; Laura Lowery, PhD; Gareth Morgan, PhD; Jose Rafael Romero, MD; Vishakha Sabharwal, MD; Karin Schon, PhD; Kaku So-Armah, PhD; Kei Suzuki, MD; Jonathan Wisco, PhD; Francesca Seta, PhD; and Joseph Zaia, PhD.
STaRS also hosted four scholars during the summer from the AHA-SURE program, Chelsea Akubo, Corban Jackson, Destiny Jackson and Sheila Pagtakhan.
"It is a true pleasure to get to know these young investigators and help them in their careers," said Dominguez.