White Coat Ceremony Welcomes Entering Class of 2021
"Each of you are here with gifts to share."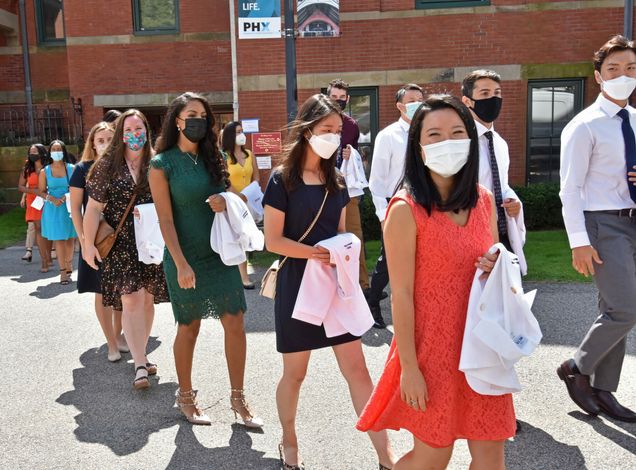 After a year of social distancing and a lack of in-person gatherings, incoming medical students and their family and friends were able to safely gather together for the 2021 White Coat Ceremony. The energy was palpable, as 150 students processed through the arches of the Talbot building and under the large white tent on Talbot Green of Boston University's Medical Campus.
The White Coat Ceremony is a symbolic rite of passage for medical students, marking their official entrance to the study of medicine. On Monday, Aug. 2, students recited the Hippocratic Oath for the first time, pledging their commitment to the profession and the trust that they must earn from their patients.
Angela Jackson, MD, Associate Dean for Student Affairs, kicked things off and welcomed both in-person guests and the hundreds of people watching the celebration online.
Then Kristen Goodell, MD, Associate Dean of Admissions, presented the class and highlighted their unique qualities to the crowd.
Drawn from a pool of nearly 12,000 candidates through six different entry pathways and 84 undergraduate institutions, this class is 60 percent women and 16 percent from groups underrepresented in medicine. More than 20 percent hold a graduate degree at the master's level or above.
The class represents a range of backgrounds and experiences. Its members come from 30 different states in the U.S. and were born in 16 countries; 84 percent are at least bilingual and, as a group, speak 30 different languages.
BUSM Dean and BUMC Provost Karen H. Antman, MD, shared her insight regarding the transition into medical school, especially during the COVID-19 pandemic.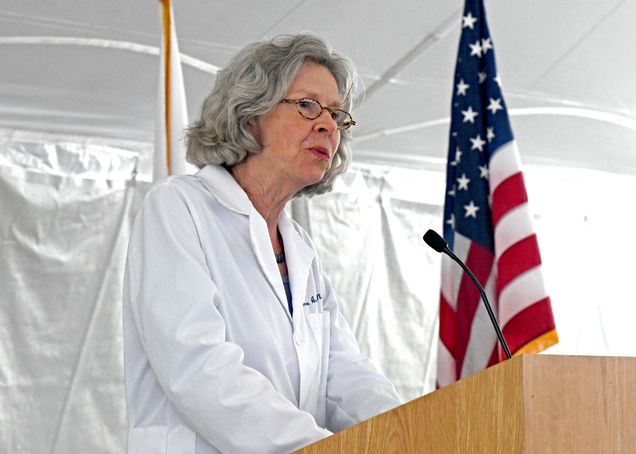 "You and your classmates will have a bumpy ride, but managing challenges and solving problems is part of your socialization as a physician," she said. "That kind of adaptive creativity has served the profession well during the COVID pandemic."
Antman was followed by keynote speaker Sheila Chapman, MD, Assistant Professor of Medicine at BUSM.
Chapman, who also serves as Associate Chair for Diversity and Inclusion, is a passionate advocate for students, postgraduate trainees, residents and fellows. In recent years, she has worked closely with the Department of Medicine's Office of Faculty Development and Diversity as a cofounder and faculty mentor for the Willock Faculty Development Program. She also is a coleader on the Evans Student Scholars Summer Program, a six-week career development program for rising second-year students from underrepresented groups in medicine.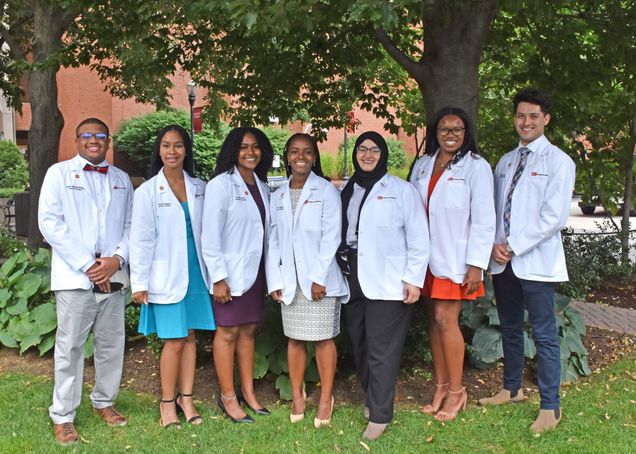 "Let me congratulate you and tell you how proud I am that you were able to successfully complete your undergraduate studies and apply successfully to medical school during the historic COVID-19 pandemic," she said to the students. "You've displayed grit, resilience and determination, which we now take time to acknowledge and celebrate."
She added, "We need you to bring your wonderful, authentic selves to your studies, interactions with peers, patients and faculty. Each of you are here with gifts to share."
Then Priya Garg, MD, Associate Dean for Medical Education, presented student names.
Faculty members Alexandra Bachorik, MD, EdM, Assistant Professor of Medicine; Julia Bartolomeo, MD, Assistant Professor of Family Medicine; Toby Chai, MD, Professor & Chair of Urology; Donald Hess, MD, Assistant Professor of Surgery; Christine Crawford, MD, Assistant Professor of Psychiatry; Jason Hall, Associate Professor of Surgery; Cheryl McSweeney, MD, MPH, Assistant Professor of Family Medicine; Shaun Wason, Assistant Professor of Urology; Sabrina Assoumou, MD, MPH, Assistant Professor of Medicine; and Stephen Wilson, MD, MPH, FAAFP, Professor & Chair of Family Medicine, coated the students.
John Polk, Associate Dean of Diversity and Inclusion, delivered the closing remarks, noting that humility and compassion are the keys to success in the medical profession.
"Here is how I see your challenge," he said. "It is up to you to make healthcare accessible, a reality, to every member of this society in a mindful and compassionate way."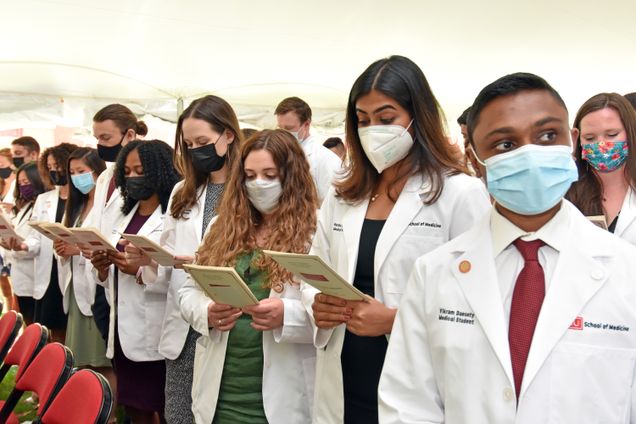 The ceremony concluded with the recitation of the Hippocratic Oath, led by Heather Miselis, MD, Assistant Dean for Alumni Affairs, who officially welcomed the students to the study of medicine.
See more photos from the ceremony on Facebook. If you missed the ceremony, click below to watch it in its entirely.