Rebecca Lee Crumpler Scholarship Fund to Honor First Black American Woman Physician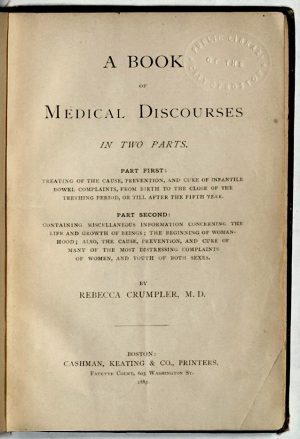 The week of Feb. 8, BUSM will celebrate Rebecca Lee Crumpler's 190th birthday with a virtual symposia and discussions to raise additional scholarship funds in her name for students demonstrating financial need, with first preference for Black women and second preference for students from underrepresented communities who are Black or Hispanic/Latinx.
In 1864, a 33-year-old woman named Rebecca Davis Lee (Crumpler) (b. February 8, 1831) became the first Black American woman to earn a degree in medicine, awarded by the New England Female Medical College, a pioneering institution that became Boston University's School of Medicine (BUSM) in 1873.  Following her graduation, Rebecca worked with the Freedmen's Bureau in Richmond, VA, created at the end of the Civil War to help recently freed enslaved people gain access to food, housing, and medical services. She returned to practice family medicine in Boston, and later published A Book of Medical Discourses. Although she encountered prejudice and hostility as a Black woman doctor, she persisted in her life's mission: combating illness in women and children.
Dr. Crumpler was able to attend medical school because of a scholarship from the Wade Scholarship Fund. The need for financial aid is just as pervasive today for medical students. Black students made up only 8.4 percent of applicants to medical school and 5 percent of active U.S. physicians from 2018 to 2019. Scholarships are one critical way to expand access to medical education, and the medical profession.
Dr. Louis W. Sullivan (MED'58), a member of the Dean's Advisory Board, was able to attend BUSM due to scholarship support from alumni, and has decided to donate to the Rebecca Lee Crumpler scholarship fund. "I want to give back, and especially help Black students with need," he said.
Patricia J. Williams, MD (MED'89), who also is donating to the scholarship fund said, "As a proud alumna of BUSM and a Black American woman who dedicated my medical career to the care of women, I am thrilled to support efforts to memorialize Dr. Crumpler's incredible pioneering spirit and dedication to patient care. At a time when healthcare professionals are combatting the COVID-19 pandemic and the medical inequities we face in our society, it is of the utmost importance that we ensure Black students receive the support needed to pursue a quality medical education," said Dr. Williams, who serves as a member of the Dean's Advisory Board.
Dr. Sullivan echoed Dr. Williams' sentiment. "COVID-19 has revealed deficiencies in our healthcare system, in particular a discrepancy between the health outcomes of white and Black people, making it more important than ever to assist underrepresented minorities going into the medical field," he said. "You can't have a strong economy and nation without a healthy population."
Her story is already prominent on BUSM's "history wall" and now we also will honor Dr. Crumpler with endowed scholarship funds in her name to support future Black women who aspire to become physicians. Crumpler scholarships will be awarded to students demonstrating financial need, with first preference for Black women and second preference for students from underrepresented communities who are Black or Hispanic/Latinx. To make a gift, contact busmdev@bu.edu