Kimberly Sullivan, PhD, Receives 2019 Soaring Eagle Award from Center for Military Health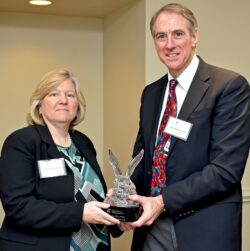 Kimberly Sullivan, PhD, research assistant professor of environmental health at BU School of Public Health has received the 2019 Soaring Eagle Award given annually by the Strategic Advisory Board of the BU Center for Military Health (formerly known as BU Center for Military and Post Deployment Health) to an individual who has made significant contributions to the health of our nation's Veterans and active duty military members through innovation and advances in clinical care, research, education or public advocacy.
Dr. Sullivan was selected as this year's recipient in recognition of her dedication to understanding and improving health outcomes of Gulf War veterans through decades of outstanding research on various aspects of Gulf War Illness (GWI).
She served as the Associate Scientific Director for the congressionally directed VA Research Advisory Committee on Gulf War Veterans' Illnesses (RAC-GWVI) from 2008-15, co-chaired the joint VA/DOD Common Data Elements Working Group for GWI in 2018 and currently serves on multiple VA executive advisory committees for GWI research.
She is a behavioral neuroscientist and currently leads two large multi-site consortia studies for GWI research funded by the Department of Defense. She is Principal Investigator (PI) and Director of the Boston Gulf War Illness Consortium (GWIC) which includes nine study sites and was designed to determine the pathobiology of GWI. Through the GWIC studies multiple key new avenues for diagnostic markers and treatments for GWI have been identified. She also serves as PI and leads the large 10-site Boston Biorepository and Integrative Network (BBRAIN) for GWI, which was designed to share biospecimens and foster collaboration within the GWI research community. In addition, Dr. Sullivan serves as site PI for multiple treatment trials including intranasal insulin, Co-enzyme Q10 and multiple phase I/II trials of the multi-site GWI Clinical Trials Consortium (GWICTIC) to treat the cognitive, fatigue and other chronic health problems in veterans with GWI.
Dr. Sullivan has worked in the field of behavioral neurotoxicology since the mid-1990s, and has coordinated multiple studies focused on chronic health effects from neurotoxicant exposures from military deployments (i.e., pesticides, nerve agents, heavy metals, prophylactic medications) and their neurobehavioral and neuroimaging outcomes as well as gender-based outcomes in military veterans and predisposition and risks for development of neurodegenerative diseases including Alzheimer's disease, stroke and Parkinson disease. She received her Bachelor's degree in 1991 from Curry College and her PhD in 1999 from Boston University School of Medicine.