Ann McKee Receives Alzheimer's Association Lifetime Achievement Award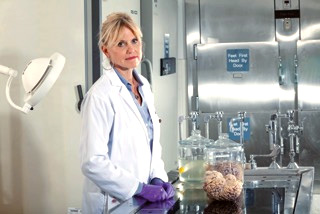 Ann McKee, MD, is the recipient of the Henry Wisniewski Lifetime Achievement Award in Alzheimer's Research from the Alzheimer's Association for her significant scientific contributions and demonstrated lifelong commitment to progress against Alzheimer's disease and dementia. She was one of three individuals recognized July 24 at the Alzheimer's Association International Conference (AAIC) in Chicago.
Director of Neuropathology for VA Boston Healthcare System and Professor of Neurology and Pathology at BUSM, Dr. McKee is Director of the BU CTE (Chronic Traumatic Encephalopathy) Center and Associate Director of the BU Alzheimer's Disease Center. She was the first scientist to report a link between motor neuron disease and CTE. Dr. McKee created the "McKee criteria" by defining the criteria on the changes in the brain for the diagnosis of CTE and establishing the novel staging system for the condition.
The Lifetime Achievement Award is named in honor of Henry Wisniewski, MD, PhD, one of the three co-founders of the conference. The award recognizes significant fundamental contributions to Alzheimer's research, either through a single scientific discovery or a body of work. The Alzheimer's Association is committed to accelerating the global effort to eliminate Alzheimer's disease and to recognizing the efforts of researchers who further our understanding about this devastating disease.