New Study of 111 Deceased Former NFL Players Finds 99 Percent Had CTE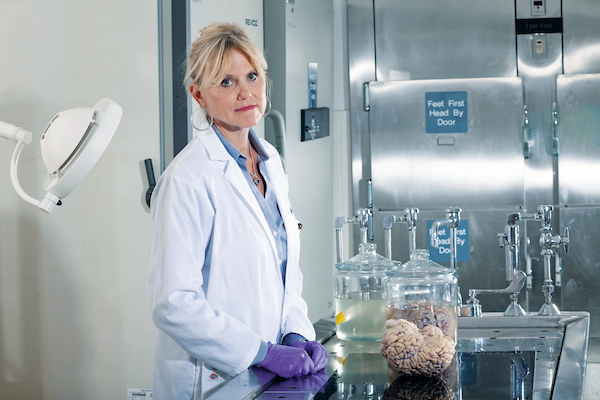 Nearly every former National Football League (NFL) player who played at least one regular season game and whose brain then was donated for research was diagnosed post-mortem with Chronic Traumatic Encephalopathy (CTE). Among former college football players, those numbers were slightly less at 91 percent.
The findings of the largest CTE case series ever published, which appear in the Journal of the American Medical Association (JAMA), suggest that CTE may be related to prior participation in football and that a long duration of play may be related to substantial disease burden.
CTE is a progressive degenerative disease of the brain found in athletes and others with a history of repetitive brain trauma, including symptomatic concussions as well as asymptomatic sub-concussive hits to the head. Although the incidence and prevalence of CTE is unknown, it has been diagnosed in former amateur and professional contact sport athletes as well as military veterans. Given the millions of contact sport athletes and military service members exposed to repetitive head impacts each year, CTE has become a major public health concern.
Researchers from VA Boston Healthcare System (VABHS) and BUSM studied 202 deceased American football players whose brains were donated for research. They found CTE in 177 American football players across all levels of play (87 percent) including: 110 of 111 National Football League players (99 percent); seven of eight Canadian Football League (88 percent); nine of 14 semi-professional players (64 percent); 48 of 53 college players (91 percent) and three of 14 high school players (21 percent). CTE severity was distributed across the highest level of play, with all former high school players having mild pathology and the majority of former college, semi-professional and professional players having severe pathology. The study data are different from previously released data as the inclusion criteria were more refined; including requiring whole brain analysis, as well as defining NFL players as having played one play in a regular season game.
"We found cognitive, mood and behavioral symptoms were very common, even among players with mild CTE tau pathology. This suggests that tau pathology is only the tip of the iceberg and that other pathologies, such as neuroinflammation and axonal damage, contribute to the clinical symptoms," explained co-first author Jesse Mez, MD, BUSM assistant professor of neurology.
 "The finding of early CTE pathology in high school and young collegiate players emphasizes the urgent need for longitudinal, prospective, multicenter studies to identify young players at risk for CTE as well as treatment strategies and comprehensive care for players who are suspected to have CTE during life. It is no longer debatable whether or not there is a problem in football; there is a problem. Through this study, we have identified meaningful opportunities for detection, prevention and multiple targets to slow or stop CTE, and it is time to come together to find solutions," said corresponding author Ann McKee, MD, Director of BU's CTE Center and Chief of Neuropathology at VABHS.
"This study nearly doubles the number of confirmed cases of CTE in the world's literature, and represents a significant advance in our understanding of the disease," said co-first author Daniel Daneshvar, MD, PhD, who is now completing his residency in physical medicine and rehabilitation at Stanford University.
The study authors wish to stress the ascertainment bias associated with participation in a brain donation program, and the lack of a comparison group representative of all individuals exposed to American football. In addition, the majority of the brain bank donors in the study played at the college or professional level, while most American football players play only on youth or high school teams. These limitations preclude estimation of the risk of participation in football and the development of CTE. Estimates of prevalence also cannot be concluded or implied from this study.
VA and BU investigators are committed to research on athletes who have died with CTE as it allows insights into the clinical symptoms of CTE and methods for detection of CTE during life, which are essential steps in developing effective treatments. This work not only enables better diagnosis of CTE in athletes but also enhances recognition and treatment of veterans, service members and other individuals who suffer repetitive head injury.
VA and BU researchers would like to thank the families of brain donors for enabling this study, which was conducted through the VA-BU-CLF Brain Bank, a collaboration with the Concussion Legacy Foundation, which is their advocacy, outreach and education partner.