Jeffrey Samet Named Incumbent John Noble Professor of Medicine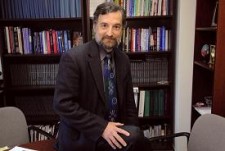 Jeffrey Samet, MD, MA, MPH, will be installed as the first John Noble Professor of Medicine on Monday, Nov. 28, from 4-6 p.m. in Hiebert Lounge.
Dr. Noble, who recently retired from the department of Medicine after nearly 30 years on the faculty, served as Chief of General Internal Medicine and Director of the Primary Care Center at Boston City Hospital from 1978 to 1997.  An insightful clinician and prescient leader, he anticipated the importance of primary care in modern health care systems and thus developed our large and successful academic primary care practice.
Samet, a native Texan, completed his undergraduate education at Brandeis University, his MD at Baylor College of Medicine, and his internal medicine residency (and chief residency) at Boston City Hospital. After a research fellowship in General Internal Medicine at Massachusetts General Hospital, Harvard Medical School, he was recruited back to Boston University School of Medicine (BUSM) in 1983, and is currently Professor of Medicine (BUSM) and Community Health Sciences (BU School of Public Health).
Samet studies alcohol and drug use among patients in primary care and other medical settings and specifically of HIV-infected patients, HIV prevention and treatment in Russia and improving the care of HIV-infected patients. He is Principal Investigator of several NIAAA and NIDA-funded grants. In 2002, he became the Chief of General Internal Medicine at BUSM-BMC and Vice Chair for Public Health in the Department of Medicine. He served as Medical Director of Addiction Services in the Boston Public Health Commission (1995-2012), and President of the Association for Medical Education and Research in Substance Abuse (1999-2001) and the American Board of Addiction Medicine and its Foundation (2012 & 2013).  He was a member of the Institute of Medicine committee on the quality chasm in mental health and addictive disorders (2005-6).
"Dr. Samet is an exemplary physician investigator, clinician, and teacher who has mentored countless faculty and trainees.  He has developed one of the premier sections of General Internal Medicine in the country. We are delighted to celebrate the careers of Drs. Samet and Noble through the establishment of this professorship," said David Coleman, MD, Wade Professor and Chair, Department of Medicine.