Alumni Share Experiences: Black History at BUSM
In honor of February being Black History Month, the BUSM Alumni Association sponsored the special event, "An Interactive Discussion: Black History at BUSM."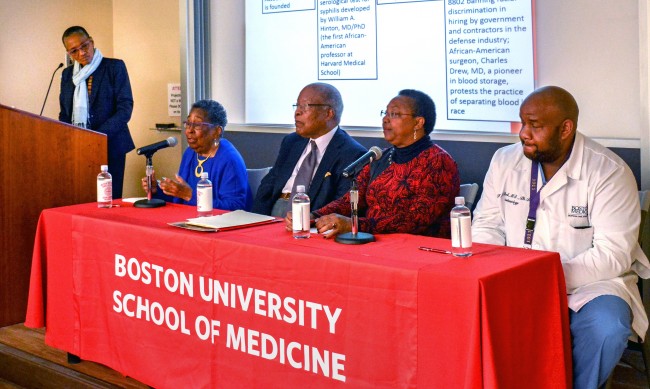 The inaugural event drew a crowd of almost 100 alumni, students, faculty and staff from the Medical Campus and Boston Medical Center (BMC), where four alumni shared a broad spectrum of ideas and experiences related to attending the School of Medicine. Through their candid recollections, some going back as far as the 1940s, the audience learned about their experiences, both at BUSM and more generally as physicians of color. 
Conceived by Dr. Kate Phaneuf (BUSM '88) as an opportunity to increase the recruitment of underrepresented students and faculty, the 90-minute panel discussion was moderated by Dr. Thea James, associate professor of emergency medicine and assistant dean of diversity and multicultural affairs at BUSM and Vice President of Mission and Associate Chief Medical Officer at BMC where she has been a physician since 1995.  
As part of the program introduction James explained that BUSM is ranked among the top 10 medical schools in the U.S. for interviewing under-represented minority applicants. Further she explained that "approximately 15 percent of the BUSM student body is made up of underrepresented minorities, which is strong compared to medical schools nationally."  
James raised important questions about whether the high diversity ranking of BUSM had a positive or negative impact on the student experience.  "Where are we now and how has the past 62 years shaped the student experiences at BUSM?"
 Event speakers included: 
June Jackson Christmas, MD, '49 (Psychiatry, BUSM Living Legend, Former New York City Commissioner of Mental Health and Mental Retardation Service)

Jamel Yolanda Patterson, MD, '88 (Emergency Medicine, Ageno Foundation International Board of Directors) 

Frederick G. Powell, MD, PhD, '11 (Anesthesiology, BMC) 

Louis W. Sullivan, MD, '58 (Internal Medicine/Hematology, President Emeritus Morehouse Medical College, Distinguished Alumnus Award recipient, BUSM Living Legend, Former Secretary of the U.S. Department of Health and Human Services) 
BUSM Associate Dean for Alumni Affairs Jean Ramsey, MD, said, "It is so important to have forums such as this event where we can come together and share our experiences. We all share a commitment to promoting and embracing diversity and social justice.
"I'm pleased that we had such an engaging conversation around this subject. This was the inaugural event of what will become an annual alumni program honoring Black History Month, and I look forward to continuing the conversation next year," said Ramsey.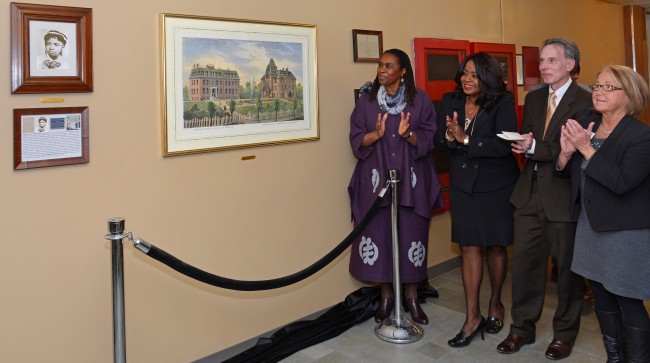 Following the program, attendees were invited to an exhibit unveiling ceremony that honors alumna Rebecca Lee Crumpler, MD, the first Black woman to become a physician in the United States.