David Henderson Appointed Chair of Psychiatry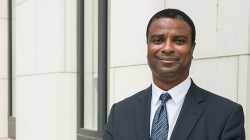 David C. Henderson, MD, has been appointed Chair of the Department of Psychiatry at BU School of Medicine and Chief of Psychiatry at Boston Medical Center. He will join BUSM/BMC in mid-November.
Dr. Henderson currently serves as Director of The Chester M. Pierce, MD, Division of Global Psychiatry, Director of the MGH Schizophrenia Clinical and Research Program and as a staff psychiatrist at Massachusetts General Hospital (MGH), as well as Associate Professor of Psychiatry and Epidemiology at Harvard Medical School and Harvard T. H. Chan School of Public Health. He also is principal investigator and director of the MGH Global Mental Health Clinical Research Fellowship.
His research interests include treatment-resistant schizophrenia and the use of psychopharmacological and antipsychotic agents in the treatment of schizophrenia. He is a leader in understanding the impact of antipsychotic agents on weight, cardiovascular disease, and lipid and glucose metabolism and the development of interventions and prevention strategies.  He has conducted numerous studies of trauma in areas of mass violence and develops programs to assist with vulnerable populations. Additionally, he works with governments and organizations to provide technical assistance regarding mental health policy and planning.
Dr. Henderson has worked in international and conflict-affected areas for more than 20 years, including New York City, following the September 11, 2001, attacks; and New Orleans, following Hurricane Katrina. He also has served during and following disasters or conflicts and in resource-limited areas, including Bosnia, Cambodia, East Timor, Ethiopia, Haiti (post-earthquake), Iraq, Japan, Kuwait, Liberia, Ghana, Rwanda, India, Peru, Somaliland and Uganda.
Dr. Henderson received his bachelor's degree from Tufts University, and is a graduate of the University of Massachusetts Medical School. He completed his residency at MGH and trained as chief resident and research fellow at the Freedom Trail Clinic at the Erich Lindemann Mental Health Center in Boston. He is a member of the National Medical Association; New England Medical Society; Sigma Xi, The Scientific Research Society of Harvard-Radcliffe; Black Psychiatrists of America Executive Committee, and has served as a Distinguished Fellow in the American Psychiatric Association since 2006. He is the U.S. editor of the International Journal of Culture and Mental Health.