Center for Translation Neuroscience Imaging (CTNI)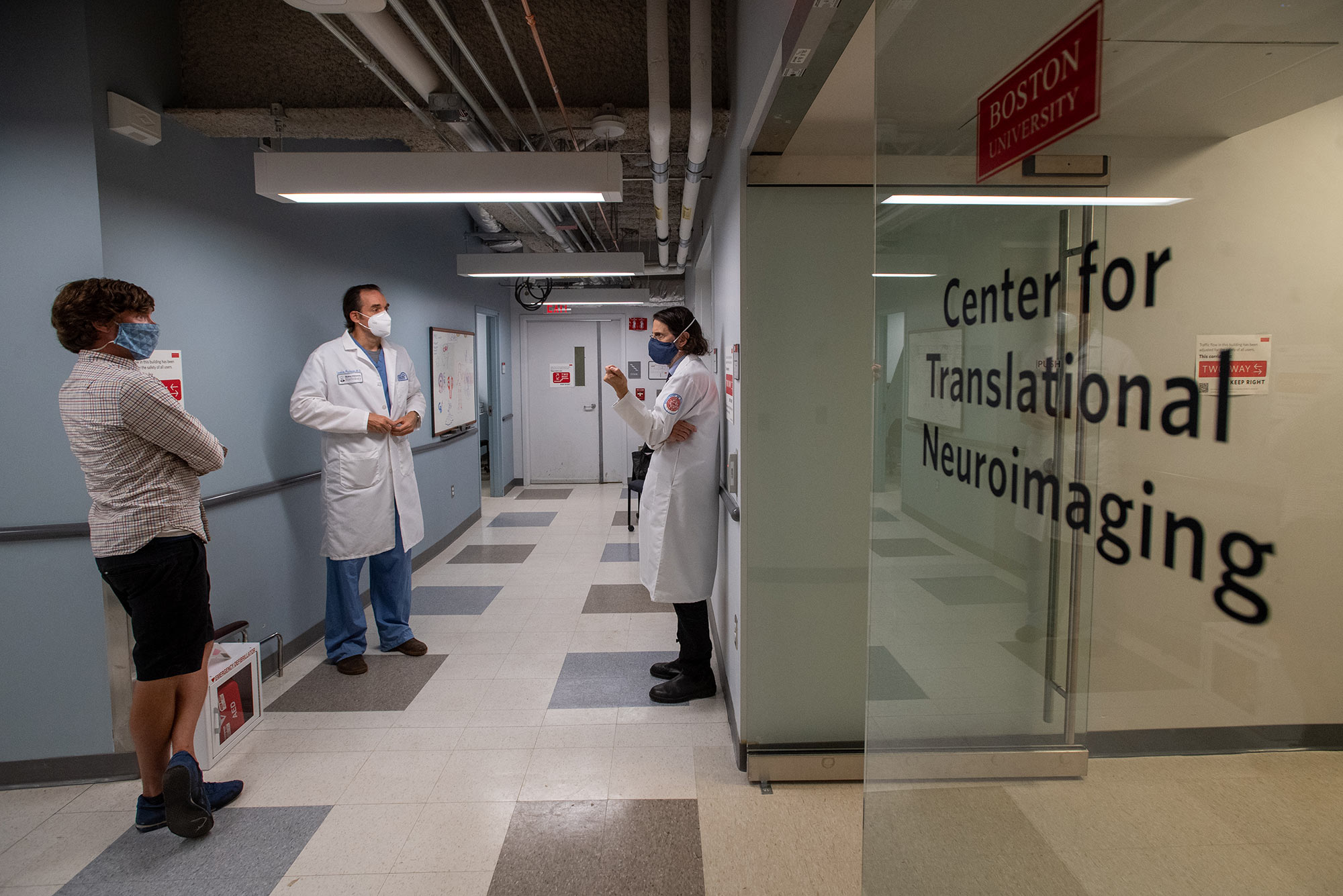 Growing Neuroscience Research
Given Boston University's longstanding excellence and stature in the neurosciences, it comes as little surprise that neuroscience research continues to flourish in the department.
This summer's recent completion of the Center for Translation Neuroscience Imaging (CTNI) at Boston University School of Medicine offers brain scientists (among others) in the department and beyond a world of possibility. Made possible by a $4.9 million grant from the Massachusetts Life Sciences Center (MLSC), as well as additional in-kind donations valued at $6.3 million, and co-directed by Stephan Anderson, MD, Vice-Chairman of Research in the Department of Radiology and Lee Goldstein, MD, PhD, Director of Translational Research in the Department of Radiology, the CTNI aims to improve brain imaging techniques and open doors to developing diagnostics and treatments for neurodegenerative diseases. The center features a suite of state-of-the-art imaging tools, including leading-edge 3.0T human (Philips Ingenia Elition) and 9.4T small animal (Bruker BioSpec 94/20 featuring CryoProbe technology) MRI systems, in addition to ultrasound capabilities (Verasonics Vantage 256).
The CTNI will complement an ongoing and highly diversified research portfolio throughout the Department of Radiology. Highlights include a world-class research head and neck and diverse brain science (cancers, sickle cell disease, amyloidosis, aging, and trauma) research program led by Osamu Sakai, MD, PhD, Section Chief of Neuroradiology. Dr. Hernan Jara, PhD, medical imaging physicist and Professor of Radiology leads an internationally-renowned effort in applying quantitative MRI techniques, including a novel white matter connectome imaging approach developed in his lab, to various brain pathologies, ranging from sequelae of preterm birth to traumatic brain injury. Finally, Lee Goldstein, MD, PhD, co-director of the CTNI leads a highly interdisciplinary research team in leading-edge discoveries related to Alzheimer's disease and chronic traumatic encephalopathy, among other allied brain pathologies.