Ronald H. Goldstein, M.D.
Faculty and Fellows
---
jonina@bu.edu
Professor of Medicine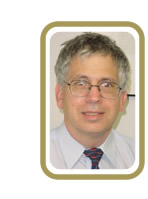 Medical School: SUNY, Downstate
Internship: Boston City Hospital
Residency: Boston City Hospital
Fellowship: Boston University School of Medicine
Special Interests:
Research:
Pulmonary Matrix Biology related to Pulmonary Fibrosis and Emphysema
Clinical:
Our laboratory is exploring the regulation of the alveolar matrix during the development of early emphysema and fibrosis. The loss of matrix substances results in emphysema whereas the excessive deposition of matrix substances results in pulmonary fibrosis. Employing the techniques of cellular and molecular biology, we are developing methods to modulating the levels of collagen, elastin and other key matrix substances in the alveolar wall. These approaches are studied in wild type and transgenic murine models of emphysema and fibrosis.
We have extensive experience in the diagnosis and management of individuals with pulmonary fibrosis. In human studies, our clinical experimental interest involves the use of novel substances to treat idiopathic pulmonary fibrosis (IPF). We participate in several clinical studies to evaluate the efficacy of these agents in the pathogenesis of IPF.
Selected Publications
Lucey E, Kuang P-P, Snider GL, Goldstein, RH. Severity of elastase induced emphysema is decreased in TNF-? and IL-1? receptor deficient mice. Lab Invest. 2002; 82, 79-85
Lucey EC, Goldstein RH, Breuer R, Rexer B, Ong DE, Snider GL. Retinoic acid does not affect alveolar septation in adult FVB mice with elastase induced emphysema Respiration 2003;70: 200-205.
Kuang P-P, and Goldstein RH. The regulation of elastin gene transcription by interleukin-1?-induced C/EBP isoforms Am J Physiol 2003: 285:C1349-55.
Kuang P-P, Goldstein RH, Liu Y, Rishikof DC, Jean J-C, Joyce-Brady M. Coordinate Expression of Fibulin-5/DANCE and elastin during lung injury repair. Am J Physiol Lung Cell Mol Physiol. 2003; 285:L1147-52.
Buczek-Thomas JA, Lucey EC, Stone PJ, Chu CL. Rich CB, Carreras I, Goldstein RH, Foster JA. and Nugent MA. Elastase mediates the release of growth factors from lung in vivo. Am J Respir Cell Mol Biol 2004; 31:344-350
Chen P, Marsilio E, Goldstein RH, Yannas IV, and Spector M. Formation of Lung Alveolar-Like Structures in Collagen-Glycosaminoglycan Scaffolds in Vitro Tissue Engineering. 2005; 11:1436-1448.
Kuang PP and Goldstein RH. Regulation of elastin transcription by Proteosome dysfunction. Am J Physiol Lung Cell Mol Physiol. 2005:289:C766-73.
Kuang P-P, Lucey E, Rishikof DC, Humphries D, Bronsnick D. Goldstein RH. Engraftment of neonatal lung fibroblasts into the normal and elastase-injuried lung Am J Respir Cell Mol Biol. In press
Berk, JL, Hatch CA, Morris SM, Stone PS, Goldstein RH. Hypoxia suppresses elastin repair by rat lung fibroblasts Am J Physiol Lung Cell Mol Physiol. In Press
Serlin DM, Kuang P-P, Subramanian M, O'Rewgan A, Li X, Berman JS, Goldstein RH. Interleukin1ß induces Osteopontin Expression in Pulmonary Fibroblasts. Am. J Physiol Lung Cell Mol Physiol. In Press
Rishikof D, Lucey E, Kuang P-P, Goldstein RH. Induction of the myofibroblast phenotype following elastolytic injury to mouse lung. Histochem.Cell Biology. In press
Kuang P-P, Berk JL, Rishikof DC, Foster JA, Humphries DE, Ricupero DA, Goldstein RH. NF-kB induced by IL-1? inhibits elastin transcription and the myofibroblast phenotype. Am J Physiol. 2002; 283, C58-C65.
Rishikof DC, Ricupero DA, Kuang P-P, Poliks C, Liu H, and Goldstein RH. Interleukin-4 regulates connective tissue growth factor in human lung fibroblasts. J. Cell. Biochem. 2002; 85,496-504.
Selected Reprints:
Links:
Dr. Goldstein sees patients at
Boston Medical Center, Doctor's Office Building 4th floor
(617-638-7480)
Boston VA Healthcare System