Jaime P. Murphy, M.D.
Faculty and Fellows
---
Assistant Professor of Medicine
Quality Leader: Pulmonary, Critical Care, & Allergy Medicine
Medical Director: Intermediate Care Units
Assistant Director: Medical Intensive Care Units Assistant Director: Medical Intensive Care Units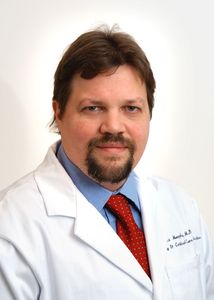 Medical School: Albert Einstein College of Medicine
Internship: New York University
Residency: New York University
Fellowship: Boston University
Board Certifications:
Internal Medicine
Pulmonary Medicine
Critical Care Medicine
Special Interests:
Research:
ALI/ARDS
Quality Improvement and Patient Safety
Macrophage Biology
Clinical:
Critical Care Medicine
Pulmonary Consult Service
Tuberculosis Clinic
General Pulmonary Clinic
Cardio-Pulmonary Exercise Testing
In his role as the Quality Leader for the Pulmonary section Dr Murphy is in charge of oversight and coordination of all quality improvement efforts in the section.  Additionally, as a member of the Executive Critical Care Committee Dr Murphy develops and implements Quality Improvement measures across all adult ICU's at Boston Medical Center.  As Medical Director of the Intermediate Care units Dr Murphy has overseen an expansion of this service from an isolated 8 bed unit to 24 beds over 2 campuses.  The expanded IMCU's now care for chronically vented patients, performs hemodialysis and administers vasoactive infusions in a select set of patients.   Clinically Dr Murphy Attends in all BMC MICU's, on the Pulmonary Consult service, the Pulmonary Clinic, and in the Boston Department of Public Health's Tuberculosis Clinic.
Selected Publications:
Murphy, J., Summer, R., Wilson , A.A., Kotton, D.N., and Fine, A. The Prolonged Life-Span of Alveolar Macrophages. Am J Respir Cell Mol Biol. 2008 Apr;38(4):380-5.
Murphy, J., Summer, R., and Fine, A. Stem Cells in Airway Smooth Muscle. Proc Am Thorac Soc. 2008 Jan 1;5(1):11-4.
Summer, R., Fitzsimmons, K., Dwyer, D., Murphy, J. , and Fine, A. Isolation of an Adult Mouse Lung Mesenchymal Progenitor Cell Population. American Journal of Respiratory Cell and Molecular Biology. 2007 Aug;37(2):152-9.
Links:
Dr. Murphy sees patients in the following locations:
General Pulmonary Clinic
TB Clinic