Thoracic Oncology
Clinical Centers
---
Mission Statement: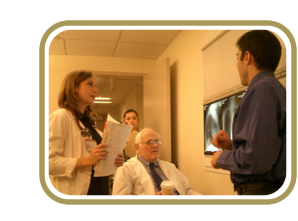 The Thoracic Oncology Center is a multidisciplinary program for patients with lung, esophageal, pleural, mediastinal, and chest wall tumors. Our pulmonary faculty and fellows are highly trained in preoperative assessment and bronchoscopic diagnosis of thoracic tumors. Important clinical and research efforts focus on the diagnosis, management and prevention of lung cancer. Through our combined state of the art research and clinical practices, the Boston University Center for Thoracic Oncology's mission is to reduce lung cancer incidence, morbidity, and mortality.
Background:
The Thoracic Oncology Center, directed by Benedict Daly, MD, is a comprehensive program that provides a wide array of clinical and research services for lung cancer and other thoracic malignancies. The multidisciplinary team is composed of physicians experienced in thoracic surgery, medical oncology, radiation oncology, chest radiology, pathology, and pulmonary medicine. The team meets weekly to review diagnostic and treatment options for individual patients. Patients are seen by an entire team of physician experienced in this field.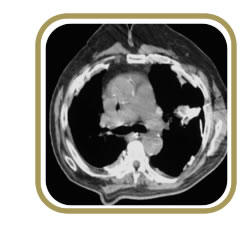 Boston Medical Center performs a high volume of surgeries for thoracic malignancies including robotic and minimally invasive surgical techniques. Our surgeons work together with the medical and radiation oncologists to participate in multiple clinical trials and develop treatment plans at every stage of lung cancer with a special emphasis in treatment options for patients with Stage IIIA and IIIB lung cancers.
Boston Medical Center's pulmonologists play an integral role at the Thoracic Oncology Center. Faculty and first-year fellows help care for high-risk surgical candidates post-operatively through the consult service. Our dedicated pulmonologists along with two to three senior pulmonary fellows join with the thoracic surgeons in multidisciplinary conference and clinic to provide preoperative assessment and aid in bronchoscopic diagnosis of thoracic tumors. Third- year pulmonary fellows on their anaesthesiology rotation observe and participate in thoracic cases including Photodynamic Therapy (PDT), Radiofrequency Ablation (RFA), and Video-Assisted Thoracic Surgery (VATS) lobar resections. At the research center, the Lung Cancer Group works to identify genes responsible for a genetic predisposition to lung cancer so high risk patients can be targets for prevention and early detection.
Clinical Activities:
Weekly Multidisciplinary Thoracic Conference.
Patient's clinical history, pathology, imaging and diagnostic studies are reviewed weekly by the multidisciplinary team to coordinate evaluation and treatment strategies.
Weekly Multidisciplinary Clinic.
Our pulmonologists work closely with the thoracic surgeons in a combined clinic aiding in diagnosis and assessing and preparing patients for treatment.
Comprehensive Imaging Services including PET imaging, chest CT and MRI
Diagnostic Services including fine needle aspiration, interventional bronchoscopy (bronchoscopic biospsies and fine needle aspiration), EUS, EBUS, mediastinoscopy, and thoracoscopy.
Combined chemotherapy, radiation therapy and surgical resection to treat patients with locally advanced disease.
Endobronchial therapy including Stent Placement, Thermal Laser Treatments, and Photodynamic Therapy (PDT) for obstructing lung and esophageal cancers. Endobronchial and endoscopic ultrasound FNA. directed by Dr. Michael Ebright.
Radiofrequency Ablation as a minimally invasive method to treat lung tumors in patients who are unable to have an operation because of medical co-morbidities or refusal.
Hiran Fernando , MD , MBBS, FRCS, Director of Minimally Invasive Thoracic Surgery at our institution is a leader in this procedure.
Research Activities: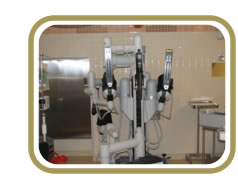 Basic Science Research
Current research initiatives of the Lung Cancer Group include molecular biology of non-small cell lung cancer, role of methylation in regulator genes of non-small cell lung cancers, and the identification of genes and proteins involved in the transition of primary tumors to invasive, metastatic tumors that may be targets in lung cancer treatment.
Translational-Clinical Research
The Lung Cancer and Bioinformatics Group has initiated a series of clinical studies aimed at developing early diagnostic tools for determining which cigarette smokers are at increased risk for developing lung cancer. Using high-throughput genomic and bioinformatic tools this group is performing cutting-edge research to develop a non-invasive biomarker for lung cancer in high-risk patients.
Clinical Trials
Small Cell Lung Cancer:
IRB #H-29718/RTOG #R0937: Randomized Phase II Study Comparing Prophylactic Cranial Irradiation alone to Prophylactic Cranial Irradiation and Consolidative Extra-Cranial Irradiation for Extensive Disease Small Cell Lung Cancer (ED-SCLC)
NSCLC – Adjuvant:
CIRB #H-31593/SWOG #E1505: Phase III Randomized, Adjuvant Chemotherapy with or without Avastin in Completely Resected Stage IB (greater than or equal to 4 cm)-IIIA Non-Small Cell Lung Cancer
NSCLC – Locally Advanced:
IRB #H-26701: Feasibility and Outcome of CyberKnife Precision Hypofractionated Radiosurgery for Curative Management of Non-Small Cell Lung Cancer
CIRB #H-31165/ACOSOG #Z4099: A Randomized Phase III Study of Sublobar Resection (+/- Brachytherapy) versus Stereotactic Body Radiation Therapy in High Risk Patients with Stage I Non-Small Cell Lung Cancer (NSCLC)
NSCLC – Locally Advanced/Metastatic:
CIRB #H-30283/CTSU #C30801: A Randomized Phase III Double Blind Trial Evaluating Selective COX-2 Inhibition in COX-2 Expressing Advanced Non-Small Cell Lung Cancer
IRB #H-31391/RTOG #R0839: Randomized Phase II Study of Pre-Operative Chemoradiotherapy +/- Panitumumab (IN #110152) Followed by Consolidation Chemotherapy in Potentially Operable Locally Advanced (Stage IIIa, N2+) Non-Small Cell Lung Cancer
The Boston University Research Center lists the ongoing clinical trials for lung cancer prevention, small cell lung cancer, and NSCLC trials at our institution.
Investigators/Personnel:
Thoracic Surgery
Benedict Daly, MD Administrative Director
Hiran C. Fernando, MD
Harold Lazar, MD
Ara Ketchedjian, MD
Michael Ebright, MD
Mary Clancy, NP
Carmel Fitzgerald, NP
Nancy Paul, NP
Clinical Trials: Donna Morelli, BS
Radiology
Bill Arndt, MD
Avneesh Gupta, M.D.
Gustavo Mercier
Oncology
Ken Zaner, MD Associate Director
Timothy Cooley, MD
Pathology
Lisa Kachnic, MD, Associate Director
Gregory Russo, MD
Gastroenterology
Pulmonary Medicine
Christine Campbell-Reardon, MD
Hasmeena Kathuria, MD
Frank Schembri, MD
Katrina Steiling, MD, MSc
Selected Publications
Narsule CK, Montgomery MM, Fernando HC. Evidence-based review of the management of cancers of the gastroesophageal junction. Thorac Surg Clin. 2012 Feb;22(1):109-21, vii-viii.
Narsule CK, Wee JO, Fernando HC. Endoscopic management of gastroesophageal reflux disease: A review. J Thorac Cardiovasc Surg. 2012 Sep;144(3):S74-9. Epub 2012 Apr 17.
Narsule CK, Ebright MI, Fernando HC. Sublobar versus lobar resection: current status. Cancer J. 2011 Jan-Feb;17(1):23-7. Review.
Narsule CK, Burch MA, Ebright MI, Hess DT, Rivas R Jr, Daly BD, Fernando HC. Endoscopic fundoplication for the treatment of gastroesophageal reflux disease: initial experience. J Thorac Cardiovasc Surg. 2012 Jan;143(1):228-34. Epub 2011 Nov 8.
Ketchedjian A, DiPetrillo TA, Daly B, Fernando HC. Role of adjuvant radiation (external beam/brachytherapy) for stage I NSCLC. Thorac Surg Clin. 2007 May;17(2):273-8. Review.
Daly BD, Ebright MI, Walkey AJ, Fernando HC, Zaner KS, Morelli DM, Kachnic LA. Impact of neoadjuvant chemoradiotherapy followed by surgical resection on node-negative T3 and T4 non-small cell lung cancer. J Thorac Cardiovasc Surg. 2011 Jun;141(6):1392-7.
Fernando HC, Landreneau RJ, Mandrekar SJ, Hillman SL, Nichols FC, Meyers B, Dipetrillo TA, Heron DE, Jones DR, Daly BD, Starnes SL, Tan A, Putnam JB J Thirty- and ninety-day outcomes after sublobar resection with and without brachytherapy for non-small cell lung cancer: Results from a multicenter phase III study.Thorac Cardiovasc Surg. 2011 Aug 25
Zheng Y, Fernando HC. Surgical and nonresectional therapies for pulmonary metastasis. Surg Clin North Am. 2010 Oct;90(5):1041-51. Epub 2010 Aug 5.
Singhal S, Ferraris VA, Bridges CR, Clough ER, Mitchell JD, Fernando HC, Shrager JB. Management of alveolar air leaks after pulmonary resection.Ann Thorac Surg. 2010 Apr;89(4):1327-35.
Santos RS, Gupta A, Ebright MI, DeSimone M, Steiner G, Estrada MJ, Daly B, Fernando HC. Electromagnetic navigation to aid radiofrequency ablation and biopsy of lung tumors.Ann Thorac Surg. 2010 Jan;89(1):265-8
Daly BD, Fernando HC, Ketchedjian A, Dipetrillo TA, Kachnic LA, Morelli DM, Shemin RJ. Pneumonectomy after high-dose radiation and concurrent chemotherapy for nonsmall cell lung cancer. Ann Thorac Surg. 2006 Jul;82(1):227-31
Ketchedjian A, Daly BD, Fernando HC, Florin L, Hunter CJ, Morelli DM, Shemin RJ. Location as an important predictor of lymph node involvement for pulmonary adenocarcinoma. J Thorac Cardiovasc Surg. 2006 Sep;132(3):544-8
Fernando HC, Murthy SC, Hofstetter W, Shrager JB, Bridges C, Mitchell JD, Landreneau RJ, Clough ER, Watson TJ; Society of Thoracic Surgeons. The Society of Thoracic Surgeons practice guideline series: guidelines for the management of Barrett's esophagus with high-grade dysplasia. Ann Thorac Surg. 2009 Jun;87(6):1993-2002.
Cesaretti JA, Pennathur A, Rosenstein BS, Swanson SJ, Fernando HC. Stereotactic radiosurgery for thoracic malignancies. Ann Thorac Surg. 2008 Feb;85(2):S785-91. Review
Fernando HC. Radiofrequency ablation to treat non-small cell lung cancer and pulmonary metastases. Ann Thorac Surg. 2008 Feb;85(2):S780-4. Review.
Links:
Research:
For Patients:
To schedule a clinic visit or refer a patient to the Thoracic Oncology Clinic, please contact us at:
Call: 617.638.5600
Fax: 617.638.7382
Boston Medical Center
Center for Thoracic Oncology
Moakley Building
830 Harrison Avenue, 3rd Floor
Boston, MA 02118