Clinical Centers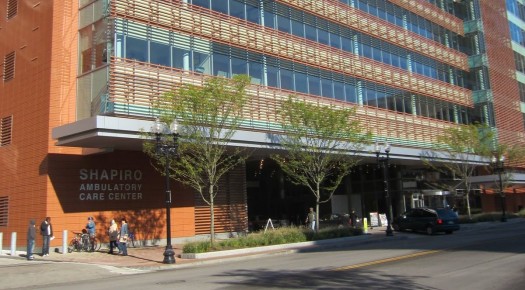 The Clinical Programs of our section are extensive and diverse. Our faculty provides all the staffing for the Medical Intensive Care Units at Boston Medical Center and the Boston VA Medical Center, and we run active consultation services in each institution. The volume of intensive care patients at Boston Medical Center alone requires three separate attending and house officer teams. The complex administration of the care of critically ill patients is overseen by Arthur Theodore, the Medical Director of our MICUs. Our physicians also provide consultation in the care of other critically ill patients, such as those undergoing surgery, and our Procedure Service, staffed by our pulmonary physicians, provides expert supervision of central line placement, thoracentesis, and bronchoscopy. On average, we annually staff 12,000 in-patient daily visits, 6,000 out patient visits, and 1,000 medical procedures.
Out-patient services, directed by Dr. Karin Sloan, include subspecialty clinics in asthma and allergy and large referral practices in Pulmonary Fibrosis, Sarcoidosis, Scleroderma, Amyloidosis, Pulmonary Hypertension, Sickle Cell Anemia-related lung disease, HIV-related lung disease, COPD, and lung cancer. Additional clinical activities include staffing the public health clinic in Tuberculosis and Dr. John Bernardo of our section serves as state Tuberculosis control officer. We also participate in pulmonary, critical care, and rehabilitation services at several off-site locations and neighborhood clinics around Boston. We have developed outstanding exercise physiology and pulmonary function laboratories and bronchoscopy facilities with highly-trained staff to support the clinical needs of our patients. Our section remains committed to Boston Medical Center's mission of delivering exceptional patient care without exception.
Interested patients or referring physicians may learn more about our clinical programs by exploring the links listed in the left margin. Many of our clinical programs conduct clinical trials and translational research that may be accessed by clicking on the Research links listed on this page. A major focus of our clinical centers is also fellowship training, and interested fellows are encouraged to learn more by clicking on the fellowship training and research links listed in the left navigation bar.