Laboratory of Dr. Weining Lu at BUMC Renal Section
Associate Professor

Medical School: Zhejiang University School of Medicine, M.D.
Graduate School: Northeastern University, M.Sc.
Postdoctoral Training: Brigham and Women's Hospital, Harvard Medical School

General field of research:

Genetics of Kidney Development and Congenital Anomalies of the Kidney and Urinary Tract

Affiliations other than medicine:
Department of Medicine, Renal Section
Graduate Program in Molecular Medicine
Genome Science Institute
Graduate Program in Genetics and Genomics
Division of Graduate Medical Sciences
Clinical and Translational Science Institute
Contact information:
Office
X-538
Phone: (617)-414 1770
Lab
X-530
Phone:  (617)-414 2238
Fax: (617)-638 7326
Other research websites:

BUMC Renal Section: http://www.bumc.bu.edu/renalsection/
Graduate Program in Molecular Medicine: http://www.bumc.bu.edu/gpmm/
BUMC Genome Science Institute: http://www.bumc.bu.edu/gsi/
Graduate Program in Genetics and Genomics: http://www.bumc.bu.edu/gpgg/
Division of Graduate Medical Sciences: http://www.bumc.bu.edu/gms/
Clinical and Translational Science Institute: http://profiles.bumc.bu.edu/ProfileDetails.aspx?From=SE&Person=1385
Research group information
Xueping Fan, PhD, Instructor, 617-638-7333, xpfan@bu.edu
Anna Pisarek-Horowitz, PhD Student in Molecular Medicine Graduate Program, 617-638-7363, apisarek@bu.edu
Stefanie Chan, Research Technician, 617-414-2238, stefanie.chan@bmc.org
Hila Milo Rasouly, PhD student in Genetics Genomics Graduate Program, Genetic Counselor, 617-414-2298, hilamilo@bu.edu

Keywords:
Kidney development; Slit-Robo signaling; CAKUT; Vesicoureteral reflux (VUR); Mouse model of renal tract genetic disorders; Human kidney and urinary tract birth defects
Summary of research interest:
The primary research interests in Dr. Lu's laboratory focus on the genetics of kidney development and congenital anomalies of the kidney and urinary tract (CAKUT). CAKUT is a complex birth defect with a diverse phenotypic spectrum, including kidney anomalies (e.g. aplastic, hypoplastic, dysplastic and cystic kidney, antenatal hydronephrosis), and ureteric anomalies (e.g. vesicoureteral reflux (VUR), reflux nephropathy, and obstructive uropathy). CAKUT is a genetically heterogeneous disorder with an incidence of 1 in 100 infants and accounts for up to 60% of the diagnoses underlying chronic kidney disease among the 0 to 12-year age group. CAKUT is also the leading causes of chronic kidney disease and renal failure in children and may manifest as primary renal diseases in adults as increasing numbers of children with congenital or inherited renal tract birth defects are surviving to adulthood. Despite the high incidence of CAKUT in children with chronic kidney disease, the genetic and molecular bases of CAKUT remain largely unclear.
Dr. Lu's research program has adopted combined human and mouse molecular genetics approaches to identify a number of developmental genes (e.g. ROBO2) to the study of kidney development and CAKUT. The first human molecular genetics approach is to study individuals with CAKUT and apparent chromosomal defects, with the aim of using genomic imbalances and chromosomal rearrangements as signposts to identify these critical genes (reverse genetics). Thereafter, molecular identification and analysis of candidate genes as well as mutation studies in affected individuals with a familial pattern of CAKUT will be carried out (forward genetics). The second approach is to study temporal and spatial expression patterns of candidate genes in human and mouse. Meanwhile, knockout and transgenic mouse models of candidate genes will be generated and studied to elucidate more fully their role in kidney and urinary tract development and disease. Once these candidate genes (e.g. ROBO2) have been identified, a multidisciplinary approach will be taken to gain further mechanistic insights in vivo and in vitro on the role of these genes in normal and abnormal developmental processes of the kidney and urinary tract, and on the pathogenesis of CAKUT and chronic kidney disease. This multidisciplinary approach includes the application of human and mouse molecular genetics, developmental biology, renal physiology, molecular biology, and biochemistry. The ultimate goal is to provide new knowledge of disease mechanisms underlying developmental antecedents of renal tract birth defect and chronic kidney disease, which can lead to the identification of new diagnostic and therapeutic strategies. Current research activities in Dr. Lu's lab include (1) Role of Slit-Robo signaling in kidney development, CAKUT, VUR, podocyte biology, and chronic kidney disease; (2) Identification of novel causative and susceptibility genes for CAKUT in children with chronic kidney disease. Dr. Lu's research program is supported by grants from the National Institute of Health (NIH) and March of Dimes Foundation.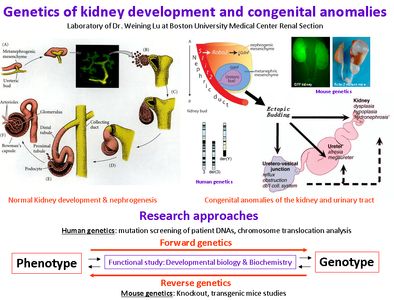 Selected publications:
Lu W, Peissel B, Babakhanlou H, Pavolva A, Geng L, Fan X, Larson C, Brent G, Zhou J. 1997. Perinatal lethality with kidney and pancreas defects in mice with a targeted Pkd1 mutation.  Nature Genet; 17:179-181.
Lu W, Fan X, Basora N, Babakhanlou H, Law T, Rifai N, Harris PC, Perez-Atayde AR, Rennke HG, Zhou J. 1999. Late onset of renal and hepatic cysts in Pkd1 targeted heterozygotes.  Nature Genet; 21:160-161.
Lu W, Shen X, Pavlova A, Lakkis M, Ward CJ, Pritchard L, Harris PC, Genest DR, Perez-Atayde AR, Zhou J. 2001. Comparison of Pkd1-targeted mutants reveals that loss of polycystin-1 causes cyst formation and bone defects. Hum Mol Genet; 10:2385-2396.
Herron BJ, Lu W, Rao C, Liu S, Peters H, Bronson RT, Justice MJ, McDonald JD, Beier DR. 2002. Efficient generation and mapping of recessive developmental mutants using ENU mutagenesis. Nature Genet; 30:185-189.
Silverman ES, Le L, Baron RM, Hallock A, Hjoberg J, Shikanai T, Storm van's Gravesande K, Auron PE, Lu W. 2002. Cloning and functional analysis of the mouse 5-lipoxygenase promoter. Am J Respir Cell Mol Biol; 26(4):475-483.
Liu S, Lu W, Obara T, Kuida S, Lehoczky J, Dewar K, Drummond IA, Beier DR. 2002.  A mutated novel Nek kinase causes cystic disease. Development; 129(24):5839-5846.
Nauli SM, Alenghat FJ, Luo Y, Williams E, Vassilev P, Li X, Elia AE, Lu W, Brown EM, Quinn SJ, Ingber DE, Zhou J. 2003. Polycystins 1 and 2 mediate mechanosensation in the primary cilium of kidney cells. Nature Genet; 33:129-137.
Lu W, van Eerde AM, Fan X, Quintero-Rivera F, Kulkarni S, Ferguson HL, Kim H, Fan Y, Xi Q, Li QG, Sanlaville D, Andrews W, Sundaresan V, Bi W, Yan J, Giltay JC, Wijmenga C, de Jong TPVM, Feather S, Woolf A, Rao Y, Lupski JR, Eccles MR, Quade BJ, Gusella JF, Morton CC, Maas RL. 2007.  Disruption of ROBO2 is associated with urinary tract anomalies and confers risk of vesicoureteral reflux. Am J Hum Genet; 80(4):616-632.
Lu W, Quintero-Rivera F, Fan Y, Alkuraya F, Donovan DJ, Xi Q, Turbe-Doan A, Li QG, Campbell CG, Shanske AL, Sherr EH, Ahmad A, Peters R, Rilliet B, Parvex P, Bassuk AG, Harris DJ, Ferguson H, Kelly C, Walsh CA, Gronostajski RM, Devriendt K, Higgins A, Ligon AH, Quade BJ, Morton CC, Gusella JF, Maas RL. 2007. NFIA haploinsufficiency is associated with a CNS malformation syndrome and urinary tract defects, PLoS Genet; 3(5):e80:0830-0843.
Higgins AW, Alkuraya FS, Bosco AF, Bruns GAP, Donovan DJ, Eisenman R, Fan Y, Farra CG, Ferguson HL, Gusella JF, Harris DJ, Herrick SR, Kelly C, Kim HG, Kishikawa S, Kocher KM, Korf BR, Kulkarni S, Leach NT, Lemyre E, Lewis J, Ligon AH, Lu W, Maas RL, MacDonald ME, Moore SDP, Peters RE, Quade BJ, Quintero-Rivera F, Saadi I, Shen Y, Shendure J, Williamson RE, Morton CC. Balanced or Unbalanced, That is the Cytogenetic Question: Characterization of Apparently Balanced Chromosomal Rearrangements from the Developmental Genome Anatomy Project. Am. J. Hum. Genet 2008; 82(3):712-722
Bonegio RG, Beck LH , Kahlon R, Lu W, Salant DJ. The fate of notch deficient nephrogenic progenitors during metanephric kidney development. Kidney Int 2011; 79(10):1099-1112
Parades J, Sims-Lucas S, Wang H, Lu W, Coley B, Gittes, GK, Bates CM. Assessing vesicoureteral reflux in live inbred mice via ultrasound with microbubble contrast agent. Am J Physiol Renal Physiol 2011; 300(5):F1262-5
Wang H, Li Q, Liu J, Mendelsohn C, Salant DJ, Lu W. Noninvasive assessment of antenatal hydronephrosis in mice reveals a critical role for Robo2 in maintaining anti-reflux mechanism. PLoS ONE 2011; 6(9):e24763
Fan X, Li Q, Pisarek-Horowitz A, Rasouly HM, Wang X, Bonegio RG, Wang H, McLaughlin M, Mangos S, Kalluri R, Holzman LB, Drummond IA, Brown D, Salant DJ, Lu W. Inhibitory Effects of Robo2 on Nephrin: A Crosstalk between Positive and Negative Signals Regulating Podocyte Structure. Cell Rep. 2012 Jul 26; 2(1):52-61.
Technologies available for sharing upon request:
Conventional and conditional gene targeting and transgenic mice technologies; TaqMan real-time PCR assay; Human disease gene mutation screening; Mouse embryonic kidney organ culture; whole mount mouse embryonic kidney dual color immunostaining; Yeast-two hybrid screening; neuronal migration assay; noninvasive ultrasound imaging of mouse kidney and urinary tract