About the Department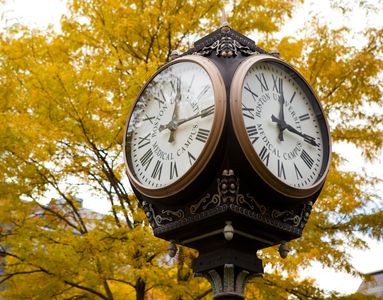 Welcome to the Department of Medicine at Boston University Medical Center. We appreciate your interest in learning more about our department. The Boston University Medical Campus contains the Boston Medical Center, and Boston University Schools of Medicine, Public Health, and Dentistry. The Department of Medicine is affiliated with our two principal teaching hospitals, Boston Medical Center and the Boston Veterans Affairs Medical Center.
Goals of the Department of Medicine
The faculty of the Department of Medicine at Boston University School of Medicine are unified by an unflinching commitment to excellence, professionalism, service, and discovery. We believe that our success as a department is dependent upon exceptional achievement in each of our core missions of research, clinical care, and education.
In order to continue our leadership role as one of the country's leading research-intensive Departments of Medicine, we expect our department to:
- Expect, support and reward both high aspiration and exceptional achievement;
- Vigorously support a departmental community characterized by curiosity; collegiality, openness, mutual respect, diversity, integrity, generosity, and service;
- Provide sustained and meaningful mentorship;
- Seek continuously higher achievement relative to historical and external benchmarks with a particular aversion to complacency;
- Be attentive to the special obligation and honor in providing exemplary care for all members of the community, especially our underserved patient population;
- Create discoveries that inspire our peers, establish new paradigms for future discovery, and ultimately improve the health of individuals and populations of patients;
- Establish and continuously refine new models for achieving excellence by working across disciplines in our research, education, and clinical programs;
- Develop responsive, supportive and challenging educational programs that enable our trainees and faculty to acquire outstanding, broad-based competencies;
- Create policies and operations characterized by effectiveness, efficiency, integrity, equity, responsiveness, and value to patients, internal stakeholders, regulatory agencies and our institutional affiliates.
Ultimately, we seek to be a department that leads through the impact of our work, the generosity of our actions, the example we provide, and the value we bring to our profession and to the public.
Overview of the Department of Medicine
Faculty: The Department of Medicine contains 439 full-time faculty including 106 faculty with a Ph.D. degree. Of the total, 41% are Associate or Full Professors, 44% are women and 4% are under-represented minorities.
Clinical Programs: The department's clinical programs provide a full range of clinical services to an extraordinarily diverse patient population from within Boston as well as the greater New England region. The clinical services have a distinguished history of providing care to vulnerable patient populations as well as tertiary care. Several of the department's clinical programs (e.g., amyloid program, nutrition and weight management, scleroderma unit, vasculitis unit, pulmonary hypertension program, cardiomyopathy, and others) draw patients from throughout the world. The integration of the department's compelling social mission with a rigorous academic tradition creates an especially rich environment for patient care, training, and discovery.
The department's clinical programs have grown remarkably over the past three years. The Department of Medicine's clinical activities are large and growing.  The departmental faculty increased wRVU's to 712,111 – a 6.3% increase compared to 2009-10. Over the past five years, the department's total wRVU's have increased by 42%. During the 2009-10 academic year, total ambulatory visits (267,741) increased by 3.3%. Despite the growth in volume, the department's faculty were able to accommodate 55% of patients within 15 days of their seeking an appointment. The department's clinical programs are a critical part of the success of Boston Medical Center in meeting the patient care needs of our community. Remarkably, the ambulatory clinics at Boston Medical Center have the largest visit volume of any of the academic medical centers in Boston and Boston Medical Center is the fourth largest hospital in Boston as measured by the number of discharges.
Research Programs: The department's world-class research programs foster a spirit of inquiry in the department's clinical and educational programs, and bring new preventive, diagnostic and treatment modalities to our patient population. These programs derive from a rich tradition of mentorship and critical thinking, and are fostered by a supportive and collegial environment that encourages faculty and trainees to work and learn collaboratively The department's research grant funding was over $103 m in the 2010-11 academic year. These figures do not include research funding of faculty at the Boston VA or Roger Williams Medical Center. The department's funding from the National Institutes of Health is in the very top tier of research-intensive Departments of Medicine in the United States.
The department has internationally renowned research programs in a number of areas. Examples include cardiovascular biology, pulmonary inflammation and immunology, obesity, androgen biochemistry and biology, diabetes, arthritis, alcohol/substance abuse, genetics and genomics, computational biomedicine, obesity, nutrition, cancer biology, clinical epidemiology, amyloidosis, scleroderma, vasculitis, osteoarthritis, mycobacterial infection, inflammatory bowel disease, stem cell biology, vascular biology, HIV/AIDS, medical informatics, renal glomerular disorders, health care disparities, geriatrics, and sickle cell disease. The most important longitudinal study of cardiac risk factors ever conducted – the Framingham Heart Study – is based at Boston University and is strongly supported by investigators in the Department of Medicine. The National Emerging Infectious Disease Institute funded by NIH, Boston University and Boston Medical Center is anticipated to open in 2012. This 200,000 sq ft research center will attract 20 research teams to conduct research on emerging infectious diseases and will contain state-of-the-art biocontainment facilities (Biosafety Level 4). This Center has already successfully recruited several world class investigators into many Departments, including the Department of Medicine, and will provide extraordinary opportunities for collaborative research in infectious diseases. Department faculty recently received a large award from the National Institutes of Aging to establish the Boston Claude D. Pepper Older Americans Independence Center. In addition, the department has recently established the Evans Center for Interdisciplinary Biomedical Research to provide resources and infrastructure for faculty to work in multi-disciplinary and interdisciplinary teams that create new approaches to the discovery process. The Center has organized Affinity Research Collaboratives (ARCs) that include the Mitochondria Consortium, Protein Trafficking and Neurodegenerative Disease, Sex Differences in Adipose Tissue Remodeling, Obesity and Cancer, iPS-Driven Tissue Regeneration (Regenerative Medicine), Calcium Homeostasis and Disease, Arterial Stiffness, and evaluation of the Microbiome in human blood. (see: http://www.bumc.bu.edu/medicine/evansbiomedicalresearch). Over 150 faculty are working in affinity research collaboratives under the auspices of the Evans Center. Remarkably, faculty working collaboratively in the Evans Center received funding for 13 new grants and one program project grant during the 2010-11.
In 2009-10, the department established a new section - Computational Biomedicine. This new section serves as an important home for research and training of genomic and computational approaches to disease pathogenesis, diagnosis, and treatment. The section's faculty and trainees use high-throughput technologies (i.e., microarrays and next generation sequencing) to generate genome-wide data sets that are then analyzed with state of the art computational tools. Seven new faculty have been successfully recruited to Computational Biomedicine since its inception in 2009-10.
Educational Programs: The department's educational programs have a long-standing tradition of training national leaders in discovery, clinical care, and medical education. The present faculty enthusiastically embrace this tradition and are eager to promote the development of the next generation of leaders in medicine. The current educational programs include a medical residency program totaling 151 resident, 24% of whom have an advanced graduate degree. The residency program also includes a primary care training program. In addition to our residency training program, the Department's education programs include a Ph.D. Program in Molecular Medicine and a long-standing successful program in Continuing Medical Education. The goals of the Department's educational programs are to attract the most outstanding trainees, enforce rigorous standards of achievement, develop a learning environment and individualized programs of study that help trainees reach their full potential, and to create an exemplary mixture of professionalism, service, and integrity.
We appreciate your interest and hope you will contact us if we can provide any additional information about Boston University's Department of Medicine.
David L Coleman, M.D.
Wade Professor and Chairman, Department of Medicine