Craig Noronha, MD, Named As A 2018 Faculty Selection For Alpha Omega Alpha (AΩA)
Congratulations to Craig Noronha, MD, Assistant Professor of Medicine, who was announced as a 2018 faculty selection for Alpha Omega Alpha (AΩA).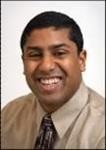 Alpha Omega Alpha is the only national honor medical society in the world, and is organized solely for educational purposes. The goals of the society are the promotion of scholarship and research in medical schools, the encouragement of high standards of character and conduct among medical students and graduates, and the recognition of high attainment in medical sciences, practice, and related fields.
Read more: http://www.bumc.bu.edu/busm/2018/05/09/a%CF%89a-announces-2018-selections/